This webinar jointly developed between VSN and Ross Video will showcase the advantages offered by the advanced newsroom integration between Inception, the Canadian company's Newsroom Computer System (NRCS), and VSNExplorer, the suite of solutions for media management of VSN. The masterclass will take place on July 25 at 15:00 UTC + 2.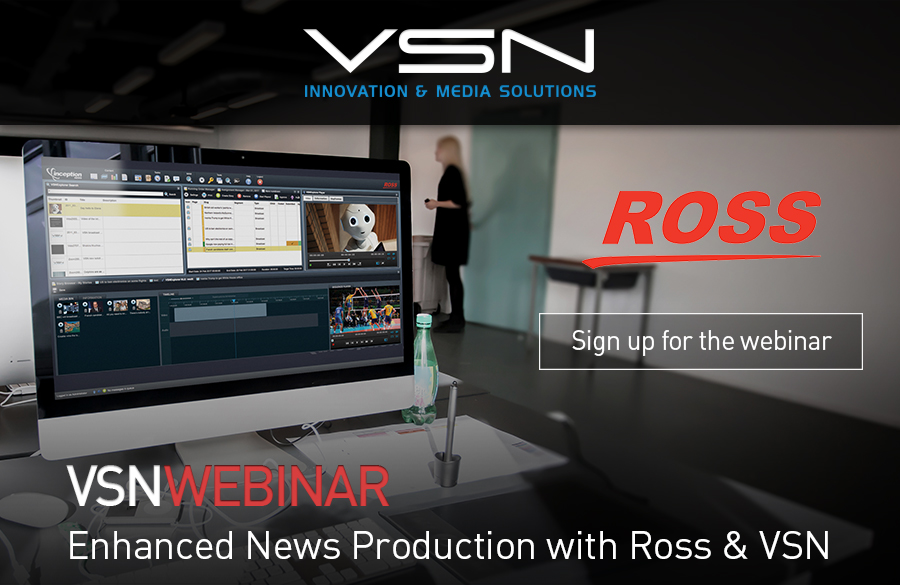 Given the immediacy required in news publishing and the audiences' increasing consumption, the tools for news production have evolved to get adapted to these demands. In this framework, both journalists and broadcasters have to face the modification of their work routines, along with the creation and adoption of news systems that really fit their needs.
VSN and Ross Video have teamed up to integrate VSNExplorer and Inception, two of its star products, in order to offer professionals a response adequate for this new work environment. Both companies will be speaking on this union and its advantages next July 25 during the webinar "Enhaced news production with Ross and VSN". Toni Vilalta, VSN's Product Manager, along with Jenn Jarvis, Inception Marketing Product Manager, will be presenting the program.
"We are very proud of the collaboration between VSN and Ross. The integration between VSNExplorer and Inception simplifies the work of journalists and increases the effectiveness of the production workflow by offering all functions on a single screen," says Vilalta.
During this masterclass both speakers will offer explanations about this technological integration features, such as the possibility of retrieving stored news and videos from Inception, thanks to the advanced search engine of VSNExplorer; the ability to send media to social networks directly from Ross's own program interface; the ease of creation and organization of new project and rundowns,both from the program and the studio playout system; as well as being able to edit from the tool itself thanks to VSNExplorer's new web editor Wedit.
The webinar 'Enhaced news production with Ross and VSN' will take place on the 25th of July at 15:00 UTC + 2. Those people interested in registering for this online masterclass can do it right now through the following link.