VSNNEWS

MOS compatible & story-centric Newsroom Computer System
In news production, speed reaction is key: get your Newsroom Computer System and be the first to get on air
The Newsroom Computer System from VSN is designed to guarantee an agile and safe workflow for the production of news and tv programs. In one single MOS compatible and story-centric app, journalists and directors have all the necessary features to be the first in broadcasting news. The ease of use and its story-centric features makes journalists' work easier and increases their productivity.
In VSNNEWS, the head of the newsroom department creates the rundown and assigns the different pieces to the journalists. These can edit the prompter text, search and add the associated clips and record the voice over in their favourite editor, until the piece is ready for broadcasting or for being sent to second screens and social networks.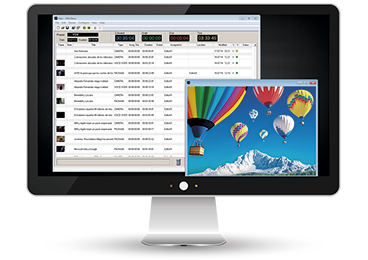 ONE SINGLE STORY-CENTRIC APP
SEND TO BROADCAST, SECOND SCREENS AND SOCIAL MEDIA
STORY-CENTRIC FEATURES
Audiences want to follow the story as soon as possible and through a multiplicity of screens and devices. There is no one second to lose. And thanks to VSNNEWS, producers can get the most from their resources and finish the stories in record time to distribute them on the Web and social media with just one click. With its specialized set of tools, creating interesting and engaging stories and distribute them has never been so easy.
TOTAL CONTROL OF RUNDOWNS
The rundown has 4 counters that allow the user to know each program's remaining time, calculated by adding the lenght of the prompter texts and the finished videos.
PLANNING
Complete program administration with user rights management. The Newsroom Computer System has a privilege-based user hierarchy to manage the access and the manipulation of rundowns and audiovisual content from the journalist terminals.
TOTAL INTEGRATION WITH SOCIAL MEDIA
Do you need to moderate and manage your social media accounts? VSNWEBTV allows the user to directly publish and distribute its contents to Facebook, Twitter, Flickr, YouTube, Brightcove and many more. Tailored text, image and video content can be distributed to multiple platforms with just one click, turning news management for social media into a child's game.
GRAPHICS AND TITLES
The journalist can also insert graphics by using templates or the Active-X of the chosen MOS compatible CG.
INGESTING AND EDITING
The journalists ingest media in their workstation, prepare the text for the voice over and prompter, and the system estimates the length of the piece. The journalist can open the video editor from the Newsroom Computer System, or can rough-cut edit with VSNWEBCUTTER, accessing all the available content available in the shared server and/or recover archived clips from VSNEXPLORER MAM.
NEWS ORDER
VSN's Newsroom Computer System allows for making any change in the order of the news, even while on air, up to 5 seconds before the end of the video that is being broadcasted. All changes are reflected simultaneously in all the terminals.
Do you want to see our Newsroom Computer System in action?