TECHNICAL UPGRADE & SOFTWARE EXPANSION · END-TO-END IN A NEWS ENVIRONMENT
In order to fulfill its rebranding and the channel's growth expected after its partnership with F.C. Porto, Porto Canal needed to update, upgrade and expand their existing software infrastructure and solutions, including a format change to HD (1080i) and the addition of new studios and locations (inside the F.C. Porto stadium). Moreover, the whole system needed to manage all software solutions in an efficient and centralized way.
Integration with the already existing solutions and hardware
Limited timeframe for the installation, upgrade, staff training and deployment
Technical upgrade to HD without interfering with the broadcast process
With the implementation of VSN solutions in an end-to-end scheme, Porto Canal passed from a manual based workflow channel to a fully managed and almost fully automated one. Professionals have now more time and better tools to focus on the improvement of their content, pursue channel success and further engage their audience.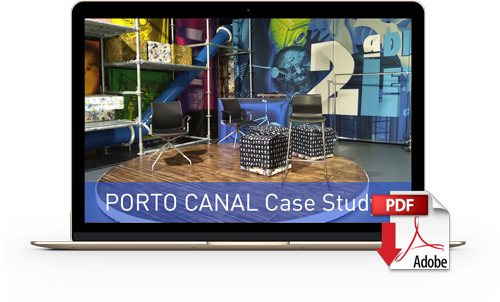 VSNEXPLORER PAM
This software offers all the necessary tools to efficiently manage and track media all along the creative process since the ingest of content, passing through the editing process and finishing with the delivery of the finalised content.

MOS compliant workflow
VSN deployed a full MOS workflow for news production, simplifying this way the integration with the existing solutions in the channel like the prompters, and improving at the same time the creation, management and production of news.