MCR AUTOMATION · VoD & WEB STREAMING SOLUTION
Today's TV audiences want to consume and have access to more and more content through an increasing number of devices and platforms, and that is the main reason why Roya TV was looking forward to take on this challenge as soon as possible. Its primary requirement? Go beyond their traditional linear TV business and acquire technology that can deliver video through the Internet, in order to head into the digital world as soon as possible.
Multiplatform content creation and delivery tools
Fit the different formats requirements of each platform
Scalable solution to meet the channel's future needs
"We are very pleased with the solution provided by VSN. It totally covers our entire workflow and content management needs, it is easy to use, its integration with our systems has been perfect and the users have learned to use it in a very short period of time."
Laith Fraihat, Roya TV's Technical Director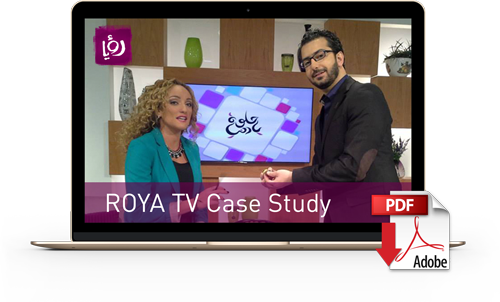 VSNWEB TV System
The platform provides the channel also with the possibility of carrying out TV and live events' broadcasts from virtually any device currently available in the market.

VSNEXPLORER Integration
The deployment of a robotic library and its integration with VSNExplorer facilitates the movement of Roya TV assets from online storage to archive and improves the distribution of content.