Thanks to the latest implementations carried out by VSN's development team, VSNEXPLORER's users will be able to totally configure all the visual aspects of the powerful media management solution: colours, logos, images, wallpapers… all with the goal of letting the own user choose the visual aspect of its daily tool and thus of introducing a personal approach to content management.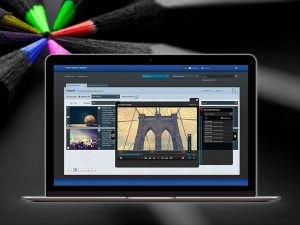 IBC 2015 is almost here and VSN is starting to make public the new features of VSNEXPLORER, its MAM, PAM, BPM and BI solution. The first of this new features is the chance given to users of totally configuring the visual aspect of the solution. This will allow them for, for example, use the corporative colours of its company, its logos or its chosen images in the interface during daily use. This way, users can have a direct connection with VSNEXPLORER and improve their daily user experience, having the freedom to customize a tool with which they spend many hours every day.
This new implementation is born directly from the demands of the own users of VSN's technology, that want to use their own company's corporate image in the technological solutions they acquire for their daily work. VSN has always paid close attention to the requests of its clients to implement new features in line with what the market demands, and in this case, it has done it again with a feature that has a critical impact on performance: it turns VSNEXPLORER into a media management tailored-made for each one of its users. With this advantage, VSNEXPLORER is capable of being the only media management tool in the market to be able to adopt the visual identity of each of its users.
The new features, in Beta phase for some time, has been exceptionally warm. Clients who have had the chance to try this new functionality assure that it can allow them to design their own media management system in a corporate level, giving configurato every user depending on their daily tasks and department.
"From VSN we always carefully listen to our clients to find out what their needs are and what they need most in their daily operation, with the goal of including this requests in our development plans", declares Jorge Muria, Development Director at VSN. "In this case, the the customization of VSNEXPLORER's visual aspect has always been very demanded by our users, that find this opportunity of giving a personal touch to their technological system very interesting for their daily work".
IBC 2015 is almost here and VSN is starting to unleash the new features that will be present in its revolutionary stand, 7.D25, where VSNEXPLORER and its Media Asset Management (MAM), Production Asset Management (PAM), Business Process Management (BPM) and Business Intelligence (BI) will be the main attractions. Those interested in booking a demo or a meeting with VSN's representatives, can do so in this link.