IBC 2015 has been a huge success for VSN Innovation & Media Solutions, with great numbers of attendees, demos and meetings at its modern and technological stand, and two successful events (on cloud collaborative work with Windows Azure and on its European R&D projects). The company celebrates at the prestigious trade show the good march of a year full of steps forward on the international market.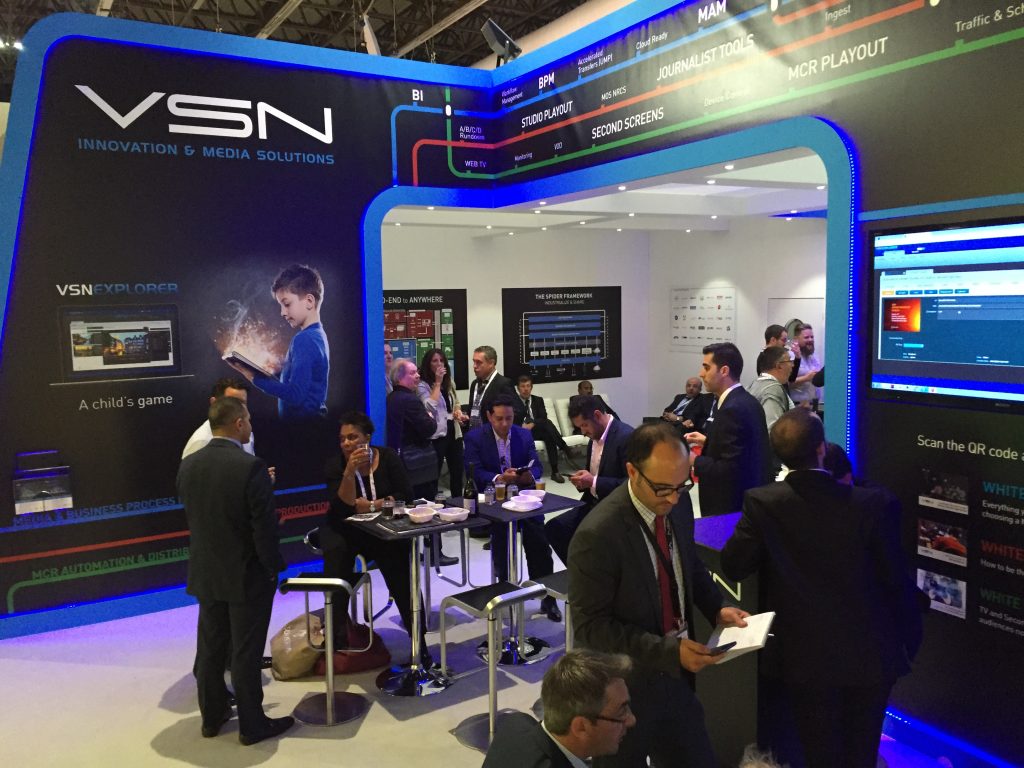 "We are very satisfied with how this edition of IBC has gone for us. We have been able to show everything that our media management solutions can achieve to a great deal of the industry's representatives and we have had more visitors and demo requests at our stand than we could imagine", declares Mr. Jordi Capdevila, VSN's Marketing Director. "We are on the way to become one of the three most influential companies of the Broadcast and Media & Entertainment, and this edition of IBC proves that we are on the right path".
VSNEXPLORER, VSN's MAM, PAM, BI and BPM solution, has been the main character at IBC 2015 thanks to its recent developments that empower audiovisual assets management, with advanced features for collaborative work, advanced cataloguing, Business Intelligence reports and quality control. The leading innovative broadcast and media management company has presented to IBC's attendees its revolutionary "From End-to-End to Anywhere" concept, that joins together traditional content management with new screens, cloud and Internet, providing users with a solution that allows maximum diffusion of its audiovisual assets.
During this edition of IBC, VSN has also presented its new cloud collaborative workflow, based on VSNEXPLORER's partnership with Windows Azure, that creates an advanced and safe environment enabling collaboration from different locations on the same project. Users can now upload and download contents using the cloud, with transcoding, and files being editable from the moment that they are ingested. This new feature was presented together with Microsoft at the corporation's stand, attracting a great deal of visitors and attention and certifying that VSN is at the vanguard of technological innovation.
During this successful IBC 2015 there was time also for presenting VSN's involvement on the EUMSSI European project, aimed at developing a new tool for event understanding that will revolutionize the journalist's work and bring the social conversation to the newsrooms. For that, Mr. Raúl Marín, VSN's Senior Engineer, traveled to Amsterdam to conduct a conference on this project, developed by VSN in collaboration with the main European R&D institutions, such as Pompeu Fabra University, German public broadcaster Deutsche Welle, IDIAP Research Institute from Switzerland or the Leibniz University of Hannover.
"We have worked very hard to make this edition of IBC the best so far for us and to positionate our media management solutions among the top brands in the market", declares Mr. Jordi Utiel, VSN's President and CEO. "And counting on the number of attendees, meetings and demos, and on how our two conferences have proven successful, we can say that we have overcome the objective. We grow every year, we put passion on what we do and the best is yet to come. We are already looking forward to make IBC 2016 an even greater success".