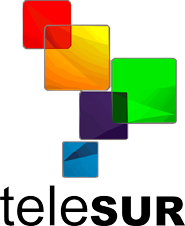 Sector: TV
Project: News Production
Nueva Televisora del Sur (TeleSUR) is a satellite and terrestrial channel aimed to Latin America with its headquarters located in Caracas, Venezuela. TeleSUR was launched in 2005 with the objetive of promoting information related to Latin Amrican integration, and it's actually finance by Argentina, Bolivia, Cuba, Ecuador, Nicaragua, Uruguay and Venezuela. Its contents are broadcasted in English, Spanish and Portuguese (for Brazil), and reach a global area in its diffusion, including Latin America and the Caribbean, Europe and Northern Africa.
The Challenge
TeleSUR needed a system to control the complete workflow of its recently launched English news platform. The ease of use, the integration with Avid iNews and a complete support system were basic requisities.
The channel also needed to manage the numerous correspondant offices that owns around the world and to provide journalists with a transfer tool to send their contents from any place, at any moment.
The project needed to be completed in less than 60 days.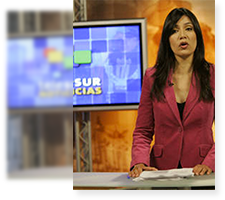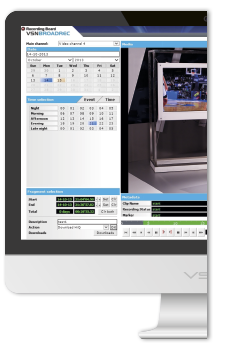 The Solution
The Venezuelan channel´s ambitious news production project will be working on a modern platform based on solutions provided by the Spanish company. The production environment has 16Ch for ingesting, 15 MAM licences, 15 VSNIPTRANSFER licences and 48TB of storage integrated with the editors Avid News Cutter and the news system iNews.
The project consists on a modern news production environment based on the VSNSPIDER platform as its workflows management system, quick, easy-to-use, and integrated with social networks and streaming and VOD platforms.
The provided solution integrates with the news writing tool already owned by the client, iNews, with licences for 15 journalists, 5 Avid NewsCutter editors for a/v edition, and a centralized 48TB storage, that storages the raw and edited contents in a transparent way for the Avid environment.
Furthermore, an automated process for digitalizing contents from news agencies based on VSNAUTOREC DIRECTOR is included. This process controls two 2Ch VSNAUTOREC Capturer+, for a total of 4Ch bandbase recording in OPAtom format. This allows native integration with NewsCutter editors, one of the most powerful integrations with AVID edition environments in the industry. Additional 12Ch are included for ingesting from other news channels based in 6 VSNBROADREC servers, of 2Ch each.
A major challenge was managing the numerous correspondent offices that Telesur owns worldwide. For this, a contribution server for IP accelerated content was provided, VSNIPTRANSFER, with 15 floating contribution licenses, something that makes it possible, just by having Internet access, to send notes in native format to the production center, in both Quito and Caracas, from anywhere in the world. This solution solved Telesur´s need at an efficient and acceptable cost.
The platform also includes 2 dedicated VSNWORKER TRANSCODER servers for transcoding and normalizing formats from different origins, based on a Harmonic Carbon Coder platform. This servers are managed in an intelligent and transparent-to-the-user way by VSNSPIDER.
The Results
Eduardo Moreno, Telesur´s technological consultant for this particular project, declares that "for us the speed of work and ease of use were crucial to choose VSN's project".
"We spoke directly to the clients that have it, we inquired about the level of support and post-sale attention, and we got very positive recommendations from other television channels", explains the executive. The project was finished in record time and TeleSUR's latest news platform is now a success.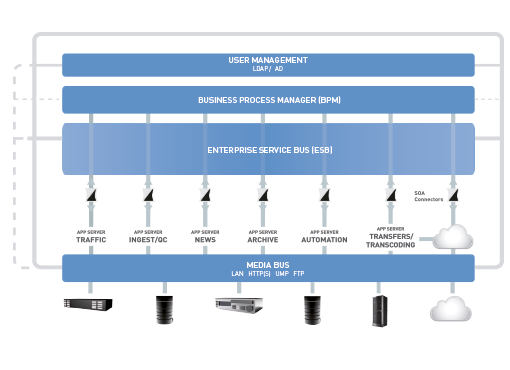 "We spoke directly to the clients that have it, we inquired about the level of support and post-sale attention, and we got very positive recommendations from other television channels"
Eduardo Moreno
Download the full case study
Get the full picture with this case study's complete diagram.