VSN launches its new media library, a space on its website that gathers all the resources produced by the technological company to understand and learn about how to efficiently manage audiovisual content.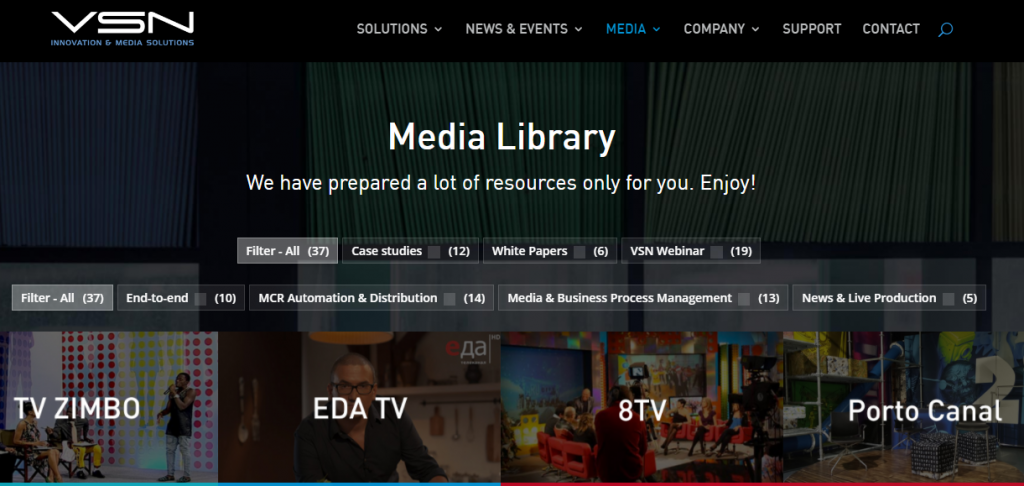 Through the content gathered in this library, available from this month, VSN seeks to bring its technological knowledge closer to all its audience, so that they are more informed when making critical purchasing decisions.
The new media library facilitates access to all the white papers focused on the most relevant topics of the media sector, case studies on some of the most relevant projects carried out by VSN and webinars intended to teach in a practical way how the different solutions can seamlessly work together, as well as how to solve nowadays broadcasters needs.
'The addition of this site in which all the VSN's e-learning files are collected, seeks to bring our work closer to all sorts of audiences and enable them to understand an industry as changing as broadcasting', comments VSN's Marketing Director Jordi Capdevila. 'In addition, this is not the only novelty that can be found in our website, since we are constantly renewing it to improve the communication with our stakeholders, so they can keep up with everything that is ahead.'
Apart from filtering by document type, according to the aforementioned division, files can also be retrieved under the most common solutions within the industry: News & Live Production, Media & Business Process Management and MCR Automation & Distribution; or, learn from the files dedicated to the full life cycle of the media, commonly known as an End-to-End solution.
VSN's new multimedia library is available through the Media section of its corporate website from now on.