COMPLETE 'ONESTOP' SOLUTION · END-TO-END SYSTEM
TV Zimbo is the first private channel in Angola, part of the Medianova group, that broadcasts nationwide over terrestrial and cable in the TV Cabo platform and internationally via satellite on the DStv and Zap platforms. The TV channel needed to move its complete system to a new building, while trying also to increase its production of studio programs and their quality. By that time, TV Zimbo broadcasted in standard definition, although several of the components supported high definition. Furthermore, post-production storage had performance problems, since it had reached its capacity limits. Therefore, the channel needed to find a advanced solution capable of addressing all its needs.
Cover the whole TV Zimbo's infrastructure movement by integrating their existing components
Full workflow in HD that allows to re-use the media, as well to provide a substantial improvement in content quality
Redundance in automation, videoservers, central storage and databases to avoid single points of failure
TV Zimbo is the perfect example of how the complete VSN's End-to-End solution provides reliability and performance with a great simplicity for the users to maximise quality content production. The system has been designed to provide a 24/7 uninterrupted operation with frame accurate change-over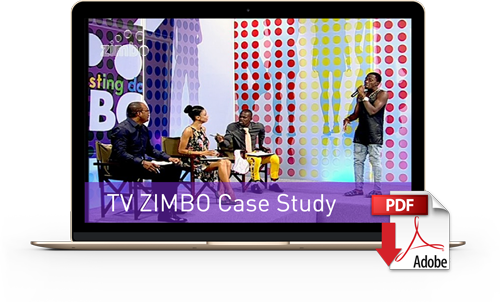 Advanced media workflow
The custom made workflow defined maintains the occupation of the storages under a certain threshold. Moreover, the management of automatic content copying and deleting in the videoservers allows for the simplification of storage management and guarantees its full performance.

Complete news production system
VSNNews solution allows to receive news from news agencies and integrates with VSNExplorer MAM system to import all the associated media. Furthermore, it makes the partial recovery of content and its subsequent edition easier.