NEWS PRODUCTION SYSTEM · NEWSROOM, MAM & CUSTOMIZED WORKFLOWS
8TV is one of the regional private channels in Catalunya (Spain) that belongs to the well-known Godó multimedia and press group and has a potential audience of 7.5 million viewers. Before this project took place, 8TV bet on launching a new 3-hour news and magazine programme in prime time that, based on its innovative and dynamic format, required building a new digital newsroom and production system to support its daily operation. After the installation and system integration was awarded to the company Unitecnic, VSN became part of this project.
The whole project's production, implementation and training took place in one moth time
Development of 8 new workflows and custom fields integration in MAM and Archive to meet 8TV's specifications
Integration of three FCP postproduction systems in a cross-platform environment
The whole customized workflows' automation and newsroom operations were successfully completed and installed at 8TV facilities in an unprecedented quick and efficient way, regardless of the budget and deadline constraints to provide the training and get the installation ready to be aired.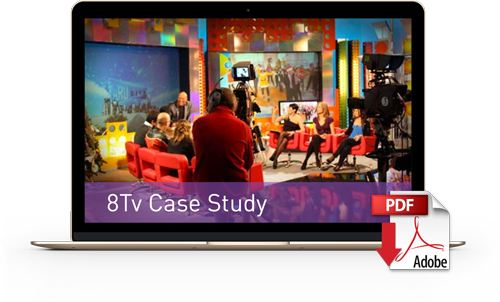 VSNExplorer technology
All the content ingested from the 7 news agencies selected by 8TV is ingested, downloaded, transcoded into a common format (DV MOV) for the whole workflow and automatically registered in
VSNExplorer MAM
using a watch-folder system.

Remote access
All the editors have access to the same news' playlist, MAM and archive, having the possibility to use them in real time and to work with the latest playlist ready to be aired, including video preview features, prompter and graphics' automation.