MCR AUTOMATION · COMPLETE END-TO-END SYSTEM
Amarin is a Thai public TV channel that broadcasts in HD for the whole country. Oriented to a wide range of topics and to entertainment, Amarin was one of the winners of the public broadcast frecuencies tender that was launched in Thailand in December 2013. It is part of Amarin Printing & Publishing Public Company, publishing business group that entered into the TV business with this channel. Therefore, Amarin needed to implement a complete End-to-End solution at record-breaking speed to start broadcasting its own HD channel in Thailand.
Implementation of new business workflows to add value to its production
Provide journalists with the necessary digital tools to work collaboratively and broadcast live events
Make a successful transition from paper to TV in record time
The installation was carried out in two phases and was ready to be launched in record time, without experiencing any incidents or delays. Currently, all the channel's workflows are boosted by VSN´s technology.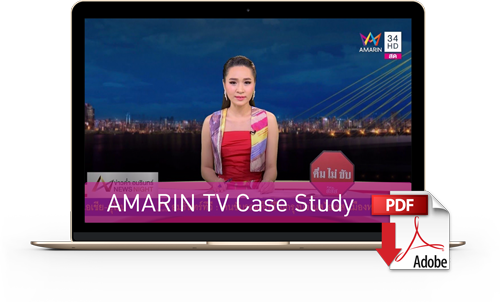 VSNMULTICOM
This system allows HotSwap redundancy with two DVS channels, controls logo insertion, CG auxiliary events and up to four ingesting channels, and it is also in charge of content ingesting for continuity, among many others features.

Advanced management
VSNExplorer MAM manages content, catalogues it thanks to custom metadata, validates and transcodes it, and prepares all assets to be broadcasted through Second Screens or to send them directly to the storages.