After eight years in the Seven Kingdoms, this week we say farewell to Game of Thrones; the show of the century that has revolutionised TV and mobilised millions of viewers. At VSN, we want to take the time to analyse and highlight some key factors that have influenced the success of GoT and have consequently brought to light an audience shift in the TV industry that broadcasters and media companies need to be ready for.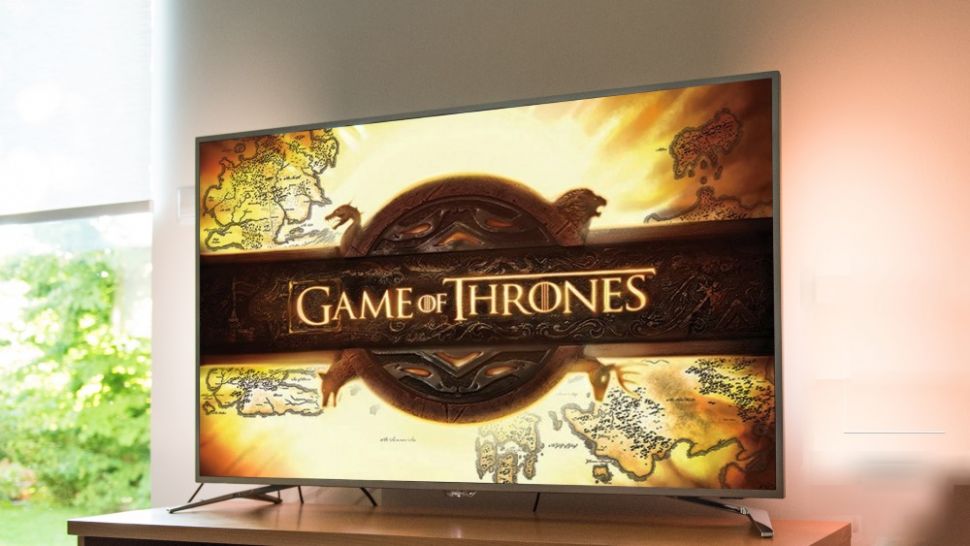 It is undeniable that
Game of Thrones has become one of the most influential series
in an era where television budgets such as theirs have skyrocketed from $3 million to $15 million an episode.  In fact,
Game of Thrones is the closest thing television has ever had to a blockbuster:
a series produced on a scale to match the biggest budget films. This ties in directly with an overall increase in production spend across Europe of more than 20 per cent between 2013 and 2017, according to Ampere Analysis, which GoT certainly enhanced and somehow accelerated.
However, beyond these insane figures, another very interesting aspect is that
GoT has united audiences across the world, increasing season upon season to reach its current colossal size.
These statements are amplified when comparing the audience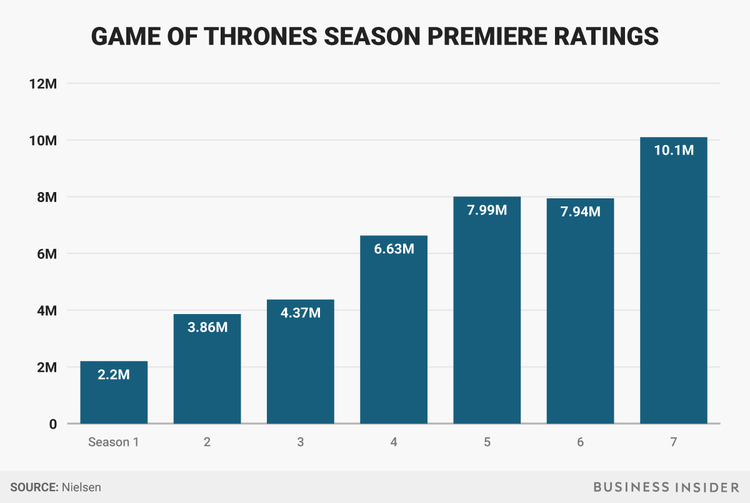 for the first and second seasons, averaging 2.52 million and 3.8 million live viewers respectively, with the audience of 8.9 million people that watched last year's Game of Thrones finale and of course, with the
10 million live viewers (plus 6 million on streaming services) who watched Game of Thrones final season setting a record for both the series and HBO as a network.
Moreover, looking further into the shows audience, we can see that viewership increase isn't the only thing that this show has brought to our attention and enhanced within the broadcast and TV industry.
There has certainly been a shift in how we watch our favourite shows, as people are now moving from
on-demand to on-demand on-mobile
, meaning that each episode has had a considerable number of viewers that watched it from their phones. What has been even more compelling regarding the audience and its popularity, is the way
social media interactions have helped to recreate the sense of live TV programming.
O
ver the past three seasons,
GoT has increased over half of its total social fan base of about 33 million
across Facebook, Twitter, Instagram and YouTube. In the past 3 months, alone, the fan growth has been 466%
.
Are you ready for it?
While Thrones changed television, it's also true that television itself changed during the show's run.
Over the 8 seasons we have seen how traditional television has been usurped by streaming services, non-linear viewing and 'binge' culture
, where consumers, rather than wait patiently for an episode airing each week, are more used to having an entire season dropped in their lap to watch at their leisure. In fact,
we could safely say that GoT has marked the end of TV's monoculture era
– the age of shows that everyone watches and talks about together.
In conclusion, the audience of a channel is becoming increasingly heterogeneous and fragmented
across linear television, VoD, Streaming, web and social networks, and
what do broadcasters have to do to be ready for it?
We believe that the
three main systems that broadcasters should consider investing in,
beyond producing more quality content, are a good
media asset management
tool, a
good traffic & scheduling platform
and
a good system for multi-platform content delivery.
Finally, another takeaway that broadcasters and media companies can obtain from particular example is the need for new levels of agility and flexibility within traditional production and play-out operations. That's why as professionals of the Broadcast and Media industry, we should focus on
providing the most agile and interoperable tools on the market
as it is critical for technology companies in the online video sector to collaborate on best practices, requirements, guidelines and specifications that make it easier for those needing the technologies to put them together.
Those interested in discovering more about VSN and it's agile and interoperable solutions, can
visit our corporate website
or get in touch with one of our commercials through the email address sales@vsn-tv.com
.