MCR AUTOMATION & DISTRIBUTION · CHANNEL-IN-A-BOX SOLUTION
Since 2009, Castilla y León TV has been the TV channel for the autonomous region of the same name. Managed by a private society, the entity broadcasts two channels in the region: Castilla y León TV and La8. The first one offers the same content to all the provinces, while La8 has some local programming during certain time blocks.
Fully redundant and integrated playout system
Coverage of the whole life cycle of the media
Ingrated servers allow the management of different video
routers and VTRs, CG system, media ingest, etc.
All the specifications and needs of CyLTV were fulfilled with the installation of VSNOne TV single system, also lowering the consumption of resources, without giving up a solid solution with guarantees. Also, its compact installation not only allowed the solution to be installed in only two days, but also offered the channel the possibility of scaling the system in a safe way, according to its future needs.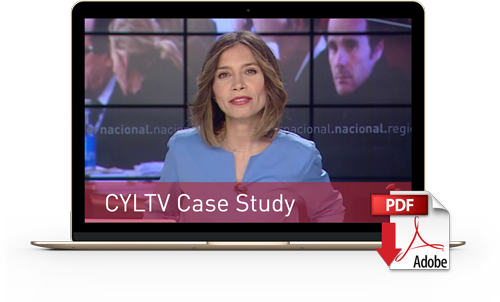 Complete solution
Just one system brings together the automation and the management of master control room.

Signal migration
The HD configuration of the two inputs and two outputs channels enable them to an easy migration
from the SD signal.