The VSNSPIDER platform is a cutting-edge framework in a new generation of cloud-friendly software solutions for Media and Broadcast
VSNSPIDER is VSN's implementation of a service-oriented architecture platform, following FIMS recommendations.

VSNSPIDER is structured by a set of logic layers. The lower layer is the MEDIA BUS (VSNSTORAGE MANAGER), in charge of locating media across the different storages of the system and normalizing it to fit the requirements of the target applications or systems.

In the second layer we can find the ESB (Enterprise Service Bus). Here is where the different SOA connectors are, as well as the software responsible for their management (VSNWORKFLOW MANAGER). This service-oriented architecture technology enormously simplifies integration with third-parties systems and allows to automate many repetitive processes.

The third layer (optional) is the one that manages business processes (BPM), in charge of the automation and orchestration of the different media workflows present in the system. Finally, the fourth layer is the user management layer that enables rights management and integration with the enterprise's domain server.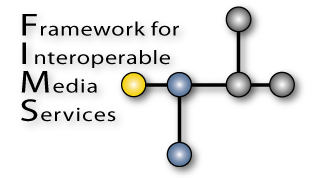 The value of the VSNSPIDER platform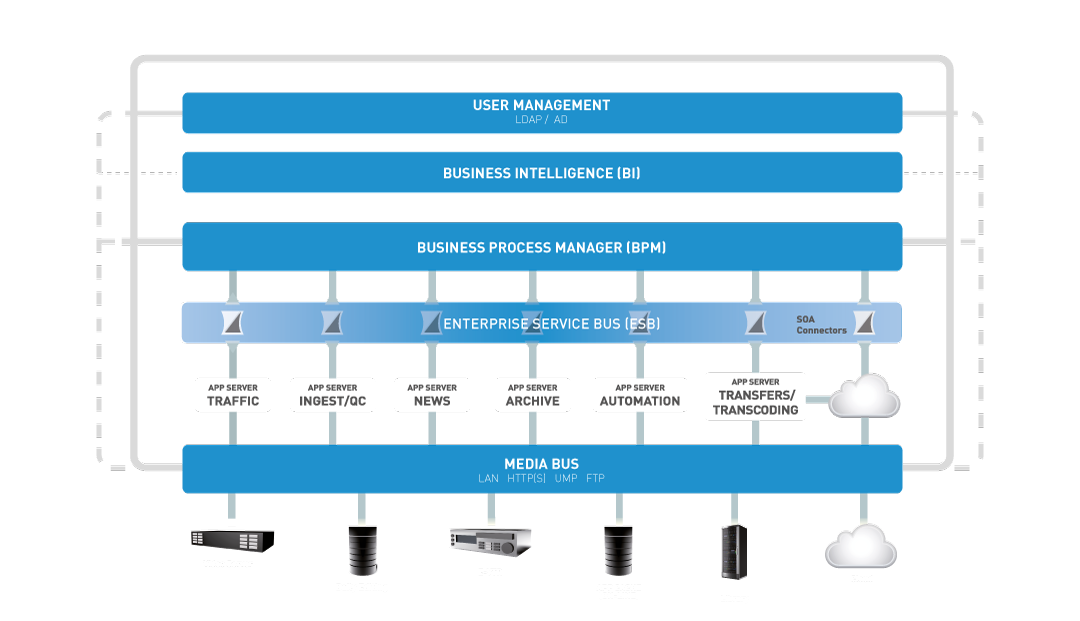 OPEN TECHNOLOGY
VSN's solutions use standard IT infrastructure both in hardware and software (SQL, Oracle, Solr, etc.) and provides SDKs, APIs or its application interfaces to allow third parties to integrate with them.
INTEGRATION WITH THIRD PARTY APPLICATIONS
VSN integrates with third parties applications through SOA, REST, XML, HOT FOLDERS, MOS and Active-X. VSN supports control of the majority of devices with standard protocol: VDCP, Chyron, RS-422, TCP-IP and through native APIs with certain manufacturer. It integrates with storages such as SAN, NAS, AVID ISIS-Interplay, Isilon, Omneon Media Grid, DDN, etc., as well as with HSM's such as SGL's HSM, XenData and FPD and with the majority of non-linear editors: FCP, Edius, AVID, Vegas Video and Adobe Premiere.
MULTIPLATFORM AND MULTISCREEN
Most of VSN's applications UIs are HTML5 web interfaces, which makes accessing them from any web browser on every available OS possible (Windows, MAC, Linux). There is also a web-based video pre-editor, VSNWEBCUTTER, that enables video editing using proxy versions that can be later edited in advanced editors on a local workstation. It also integrates with WebTV systems, connected TV, smartphones, etc.
MANAGEMENT AND MONITORING
A complete toolset is available to manage the whole VSNSPIDER platform, including user rights and permissions, workflow creation, custom metadata groups and production orders. With the use of the web-based VSNWORKFLOW VIEWER it is possible to carry out detailed tracking of all the processes currently running in the platform. Providing users with the possibility of tracking, retrying or cancelling a process and receiving automatic notifications.
SUPPORTED FORMATS (SD-HD)
VSN natively supports most of the formats currently used in the industry; among others, MXF, MOV, AVI in DV-DVCPRO 25/50/100, MPEG-2, H.264, ProRes, AVCIntra, Avid DNxHD and proxy versions in Windows Media, Smooth Streaming, Flash and MPEG4.
UNIFIED USER MANAGEMENT
VSN's platform includes a sophisticated user manager system to protect its assets and business processes. Rights can be set at User, Group, Area, Business and individual Asset level, as well as assign rights for running certain workflows or actions. It integrates with existing LDAP or Corporate Domain.
CLOUD READY
VSN's platform has been designed to work on a cloud environment, and supports LAN and Private or Public and/or Hybrid (Proxy versions and metadata in the cloud and high resolution in local storages) configurations. The system can work with a distributed architecture for MAM, News, and Traffic Distribution. High resolution files exchange is made possible thanks to UMP (Universal Multi Protocol), patented by VSN, that is between 10 and 100 times faster than FTP, and features advanced encryption and bandwidth management.
INTELLIGENT STORAGE MANAGEMENT
VSNSTORAGE MANAGER (Media Bus) manages the different content storages (Online, Nearline, Videoservers, Cloud, etc.) and gathers all specific information from each one of their catalogues; such as the type of the media file and the required metadata. It makes media movement transparent for the user, takes care of the needed re-encapsulation and transcoding flows, associates the required metadata and applies redundancy and expiry policies.
Do you want to see the VSN's technology in action?