SOLUTION FOR CONTENT TRANSFERRING · VSNEXPLORER MAM & BPM
Eda TV is a cooking thematic channel launched in 2012 that broadcasts nationwide to all Russia with great success of audience. It is part of the production company Pi-Stolet and it is based in Saint Petersburg (production and validation center) and Moscow (broadcast and playout). In this regard, Eda TV needed a system to coordinate both centers, where the studios and playout system were located separately, in order to broadcast content to all Russia more efficciently. Moreover, this integration had to be agile and intuitive for users, since they have to manage a great number of media assets and prepare them for broadcasting in record time.
Automation of the most repetitive tasks based on the UMP acceleration protocol for quick sending
Cover the whole content life cycle, from its production starts in Saint Petersburg to its broadcasting in Moscow
Deployment in record time without interfering in the channel's workflows and broadcasting
Download the case study to discover the complete workflow
Thanks to VSN's system, Eda TV has been capable of increasing the productivity of its employees. The automated workflows that allow to complete the most repetitive and heavy tasks without the users' intervention, helps them focus on continuos improvement of content and audience engagement to ensure the success of the channel.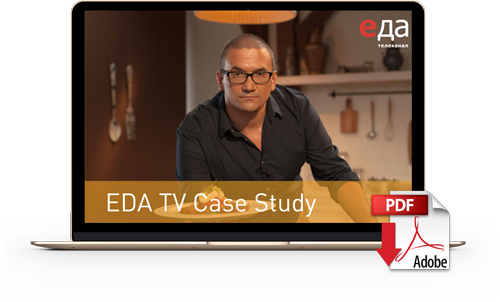 VSNEXPLORER MAM

VSNEXPLORER BPM
The customised workflows allow automatic content sending, while the UMP acceleration protocol helps it being delivered up to 20 times faster than any FTP with advanced security and encryption features.