As we approach the end of this 2020, the study of the impact that this unusual year has had on the Broadcast & Media industry is more interesting than ever, not only to confirm some early ideas about what remote working, confinement and the lack of leisure alternatives could cause, but also to begin to understand the new paradigms of an industry whose circumstances have led in many cases to a quantitative, cultural and technological leap forward.
This acceleration and shift in trends seems to have come to stay, so it is worth taking a look, first of all, at the evolution of content consumption in three of the areas that have experienced the most changes: linear television, video on demand and live streaming.
Linear television or the restoration of confidence
As could be expected, during the second and third quarter of 2020 there was a considerable increase in news monitoring on linear TV. According to LogIQ data, news consumption increased up to 80%, to which it is also necessary to add a change in the usual focus of interest from global to local relevance, as audiences sought to learn how their closest environment was evolving.
On the other hand, this renewed interest at present partly compensated for the general stoppage of live sports, a temporary drought that caused great losses for all concerned, as more than 50 disciplines, not including multi-sport events such as the Tokyo 2020 Olympic Games (now 2021) were postponed or cancelled. It is estimated, for example, that this Olympic postponement puts at risk more than $5 billion in television rights, or that FIFA, the international soccer regulatory body, has lost more than $14 billion to date.  
Of course, these events have affected media revenues. On the one hand, advertisers are investing less in television (32% less on average according to Devoncroft data) compared to digital media, and on the other hand, the pay TV model is clearly in decline. AT&T recently reported close to 1 million cable TV cancellations in the second quarter of 2020 in the US alone, and it is now one of the business branches to be put up for sale. 
Although with the return of many sports activities this income has increased slightly in recent months, most major groups already have a video-on-demand alternative, an immersion in an increasingly competitive landscape.
The increasingly populated VoD scene
If 2019 was the starting point for Streaming Wars, 2020 is a further step in the creation, expansion and consolidation of SVoD platforms, i.e. those that offer content to the user by means of a subscription, without forgetting the increasingly common presence of mixed models and those purely based on ads or AVoD, such as Pluto TV.
Netflix remains the reigning VOD platform with nearly 200 million subscribers, and has experienced unprecedented growth during the pandemic, gaining some 26 million subscribers in the first half of the year, when in 2019 it added less than 28 million throughout the year, although it failed to reach its growth estimate for the first time in the third quarter of 2020, which could be the first indication of a certain market saturation.
In second place is Amazon Prime Video, which to a large extent due to the unparalleled bundle of its Prime service has already accumulated more than 150 million subscribers worldwide, in addition to being the second in investment for its own productions with an estimated expenditure of 7.6 billion dollars, an investment that seems to be paying off judging by the success and recognition of features such as Fleabag or The Marveous Mrs. Maisel.
But without a doubt, the most outstanding case is that of Disney +, which debuted in the USA and Canada a year ago and which, despite still being in the process of international expansion, has already more than 70 million users. Due to this success, Disney recently declared that it will reorganize its structure to reinforce its direct-to-consumer strategy, a trend that was already apparent with the exclusive on-demand release of Mulan last September.
On the opposite side of the coin is the Quibi initiative, a short content platform initially designed for mobile consumption. Despite having great talent for its productions and an initial investment of more than 1 billion dollars, it seems that the combination of a dubious proposal – content initially produced only for mobile consumption and with the functionality of being able to flip the image at any time as a star element -, the pandemic and other factors led the vast majority of users (96%) not to keep the application after the trial period, which would lead to its closure after only six months of existence.
Faced with this avalanche of American OTT services from large corporations, several European national media have chosen to ally themselves to be competitive, offering services that add up to the combined catalogs of the members, such as Salto in France, Britbox in the United Kingdom, Joyn in Germany or LovesTv in Spain.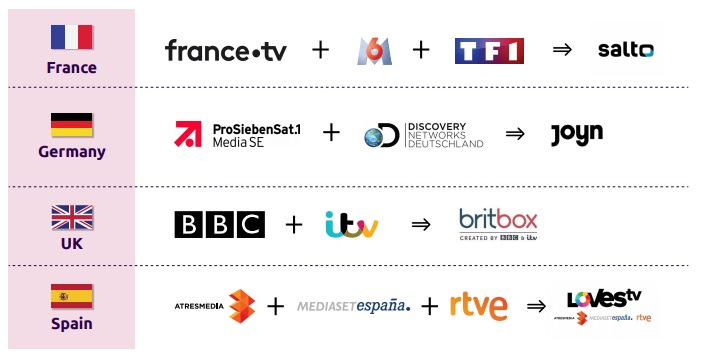 Source: OTT Streaming Wars: Raise or Fold – Capgemini
As we mentioned at the beginning of this article, the pandemic has accelerated processes that were already taking place in many households, where the paradigm is no longer the choice between linear TV or streaming, but which platforms to pay for and for how long.
Live streaming is the big winner
Finally, we cannot fail to analyze the phenomenon of live streaming. Because of the pandemic, live streaming platforms have managed to attract a much larger audience than before. As expected, with confinement many people are spending more time on social networks, and the consumption of live content on Facebook Live, Instagram Live, YouTube Gaming, and other platforms such as Twitch has increased considerably. 
In fact, Twitch is undoubtedly the leading platform for live streaming, controlling 76% of this market according to Stream Elements. While in April 2019 Twitch users consumed 750 million hours of content, in April this year this number doubled, reaching 1491 million hours.
Although this Amazon-owned platform is famous for its large amount of gaming content, other types of media have begun to gain ground because of the confinement, such as musical and sporting events. According to several experts, it is the platform's user interaction features during long-running broadcasts that have prompted it to create a unique offering.
As a general conclusion, while these high levels of average consumption may return to normal once the situation changes, it seems unlikely that some of the shifts in consumption habits we have seen so far will revert, such as interaction with live viewers or the growing importance of subscription platforms to access world premieres.
Subscribe to our newsletter to stay updated about our news