The educational TV channel from Porto Alegre, based in the Brazilian state of Rio Grande do Sul, has developed its most important digitization update since its creation in 1974, by acquiring a VSN complete video servers system with MCR Redundant Automation, News Software, Central Storage, production MAM, non linear editor, HD graphic systems, studio and field cameras, enrooting matrix, production switcher, master control, conversion systems and lightning equipment.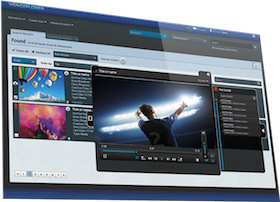 Industry standards switching to HD, the need to comply with the digital switchover date in Brazil, its web-oriented workflow, together with the rapid changes in the broadcast technology industry, have made it essential to develop a project that would allow TV Educativa de Porto Alegre to move from analog to digital work, from linear to nonlinear systems and from manual processes to automated flows. VSN has been the chosen company to do so.
The acquired solution is based on 2 EVS XS Nano broadcasting servers for 4Ch and 3TB of internal storage, configured as mirrors and controlled by VSNMULTICOM REC and VSNMULTICOM PLAY. The system includes the control of involved devices through RS 232/422, such as Router, Switcher, Chyron MOS Character Generator and client stations for remote operation, such as VSNMULTICOM REC, VSNMULTICOM SCHEDULER y VSNMULTICOM REMOTE.
For news, a MOS-based VSNNEWS TXT news system has been deployed with 30 client licences to replace the currently used Avid iNews, 4 EDIUS Broadcast video editors for news-post production, 2 dedicated servers for ingesting through file transfer and for FTP reception, a 2Ch VSNVMAX Playout server dedicated to news broadcasting controlled by VSNLIVECOM as MOS Automated News solution, and VSNAUTOREC DIRECTOR as an intelligent control system for ingesting channels that allow the user to programme automated captures that are received through baseband at the station and that can be registered later in the MAM or be sent as raw material to deep archive.
A high level ISILON system with 4 X200 nodes and 48TB of raw capacity as a centralized storage for shared edition was also included, managed by VSNEXPLORER MAM with 45 client licences and 45 deep archive licences, all working on VSN´s Spider Central Server redundant platform, that customizes workflows and manage proxies creation, transcoding and media transfer to different storage environments.
"The new digital system's workflow installed by VSN was very beneficial to the internal workflow of our TV channel, because it provides agility, reliability and seamless integration between the different sectors of our station. Today, we have numerous facilities and, for example, from any workstation a reporter has the ability to edit the ingested content and can directly access the audiovisual collection we have stored during years of activity", said Director of Engineering.