With the title Why do you really need a MAM?, VSN has organized a complete MAM webinar, that will take place on Thursday, January 29th, from 4:00 PM to 5:00 PM CET. In this webinar, a specialist will explain what a Media Asset Management (MAM) is and how audiovisual companies can take advantage of its main features to organize their media, improve their workflows and maximize efficiency.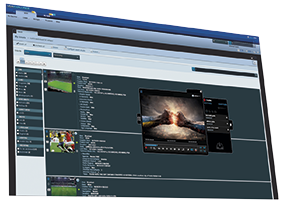 Media Asset Management (MAM) is a software tool that allows users to manage and archive all its contents in a comfortable and efficient way, helping them to better organize its resources and get the best from the space and time in which they invest in their businesses. Nowadays, with the multiplicity of screens, formats and archives, it is more necessary than ever to rely on a powerful tool to keep track of all audiovisual contents.
VSNEXPLORER is VSN's MAM solution, specially designed to offer all the necessary tools to manage the media of a company or group of companies. Once the production process has finished, a series of management processes start with the objective of monetizing the new contents. From this moment on, automating repetitive media management processes becomes crucial (transcoding, send-to-playout, quality control, etc.). And, thanks to VSNEXPLORER, all this processes can be taken care of in a fast and intuitive way, from a single interface.
The MAM webinar will be conducted by Toni Vilalta, VSN's Product Manager, from the company's headquarters in Barcelona, on Thursday, January 29th, from 4:00 PM to 5:00 PM CET. Participants will have the chance to make their questions and see a selection of them answered at the end of the event.
You can have a preview of the contents in the next video. And if you like what you see, don't miss our next Webinars!
https://www.youtube.com/watch?v=ISzFyPzp6G4
Fill the form to download the full webinar
[include id="21″ title="EN-ES Webinar News Form"]