VSNCrea Cloud: Cloud Content Management System
Elevate your media scheduling to the Cloud
Boost your content and advertising scheduling to a cloud service with VSNCrea Cloud. Take advantage of all the functionalities of VSNCrea without the hassles of infrastructure and the flexibility, quick installation, and lower cost of a 100% cloud-based service. Discover it now from 990€ per month.
VSNCrea is our Broadcast Management System. It allows you to easily and seamlessly schedule all your content and advertising. This web-based traffic and scheduling system is ready to face the challenges of scheduling both in linear TV and non-linear platforms. In addition, it provides a commercials module from where you can manage all your advertising to manage and maximize the monetization of your content.
We took VSNCrea to the next level with the launch of VSNCrea Cloud. With this service, you will be able to enjoy all the functionalities of our BMS with all the advantages of a 100% cloud service: Flexibility, low infrastructure, easy and quick set up and less cost. Request your test to our sales team and jump into VSNCrea Cloud from 990€ per month
Request your temporary trial period and discover VSNCrea Cloud
Broadcast Management System:
VSNCrea has eight different modules so that companies can personalize the system as much as possible and select those modules that best fit their specific needs in broadcast management. These modules are Broadcast, Nonlinear, Catalog, Acquisitions, Commercials, Ad Rates, Analytics and Administration.
Schedule the programming of one or more TV channels daily, weekly or long-term, sequentially or specifically, with rights or free form. It allows scheduling using predefined virtual blocks, adding graphics and jingles, having multiple playlists and even exporting playlists or EPGs for various channels to any file system or via API.
VSNCrea enables content scheduling for non-linear channels (OTT, VoD, WebTV), social media and video platforms like YouTube. User can program their content manually, sequentially, automatically or using a programmatic episode, based on the content's broadcasting rights. You can also filter your content depending on the platform where it is published.
Take control of your catalog. Organize all your content and create content segmentations to adjust them for broadcasting. Preview all your media, schedule lists and videos published on social media from the catalog. You can modify the metadata stored in the MAM directly from VSNCrea.
Manage and centralize your purchased productions with their associated metadata, broadcasting rights and contracts to avoid any human mistake in broadcast programming. Calculate the acquisition's Return on Investment using the Amortizations table and generate smart reports with all the data.
Customize VSNCrea your way. It allows you to personalize the metadata of any given field or even create new ones. Ensure that all the information can be quickly checked using the Analytics module. In addition, VSNCrea has extensive integration possibilities and multi-tenant capabilities at the customer's choice.
Boost your scheduling with VSNCrea Cloud from 990€/month
Take advantage of the cloud for your scheduling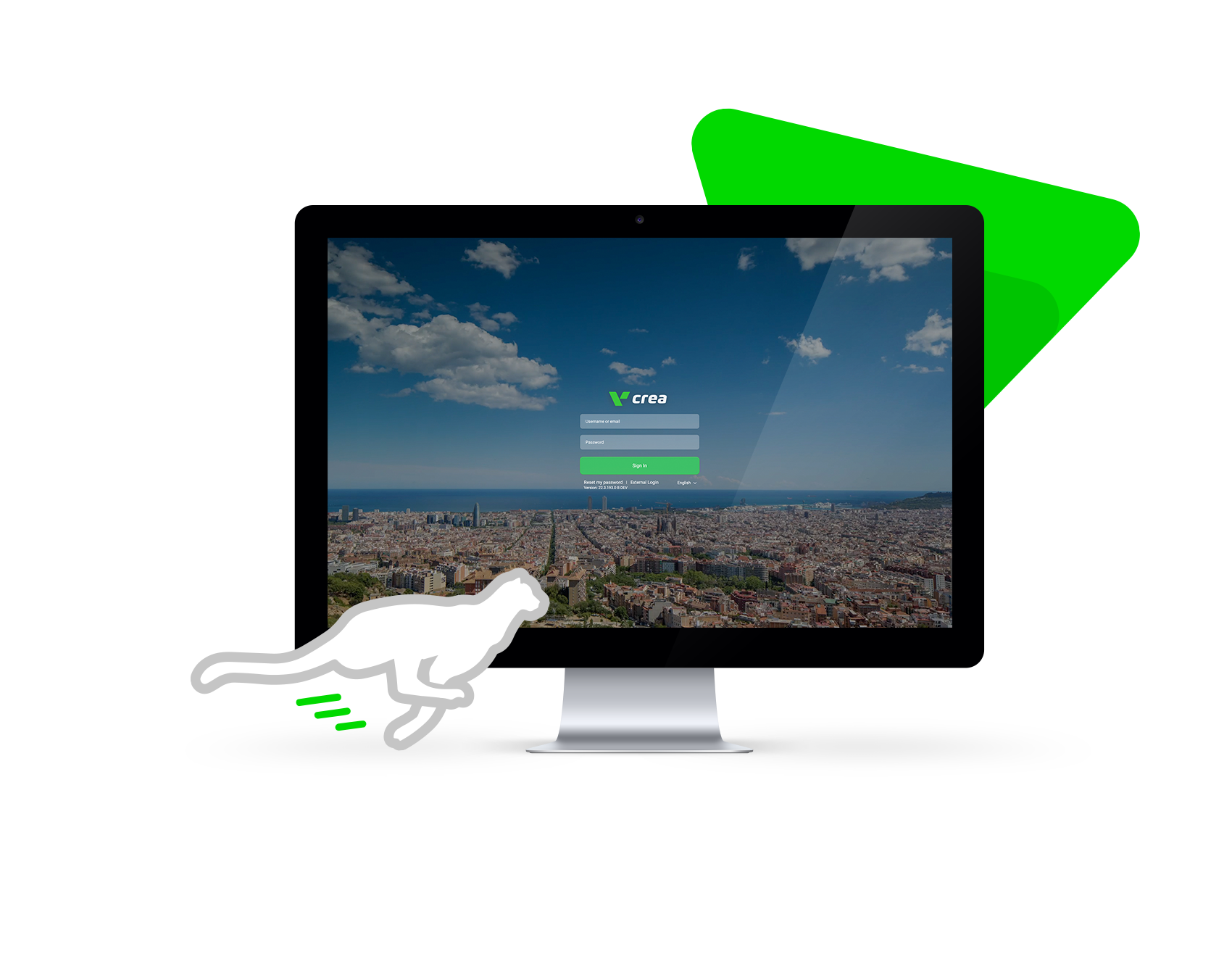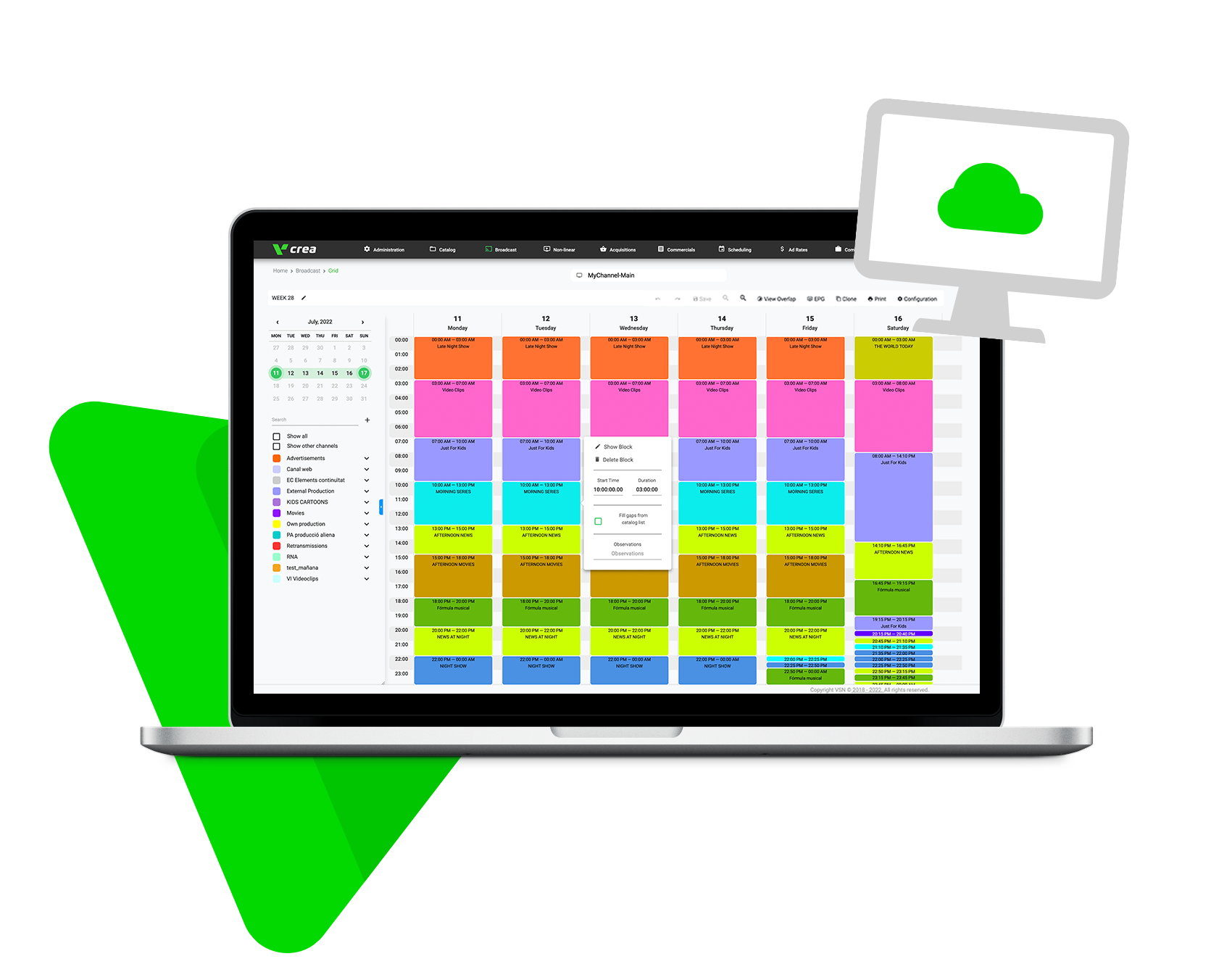 Leave us the heavy lifting
We take care of insfrastructure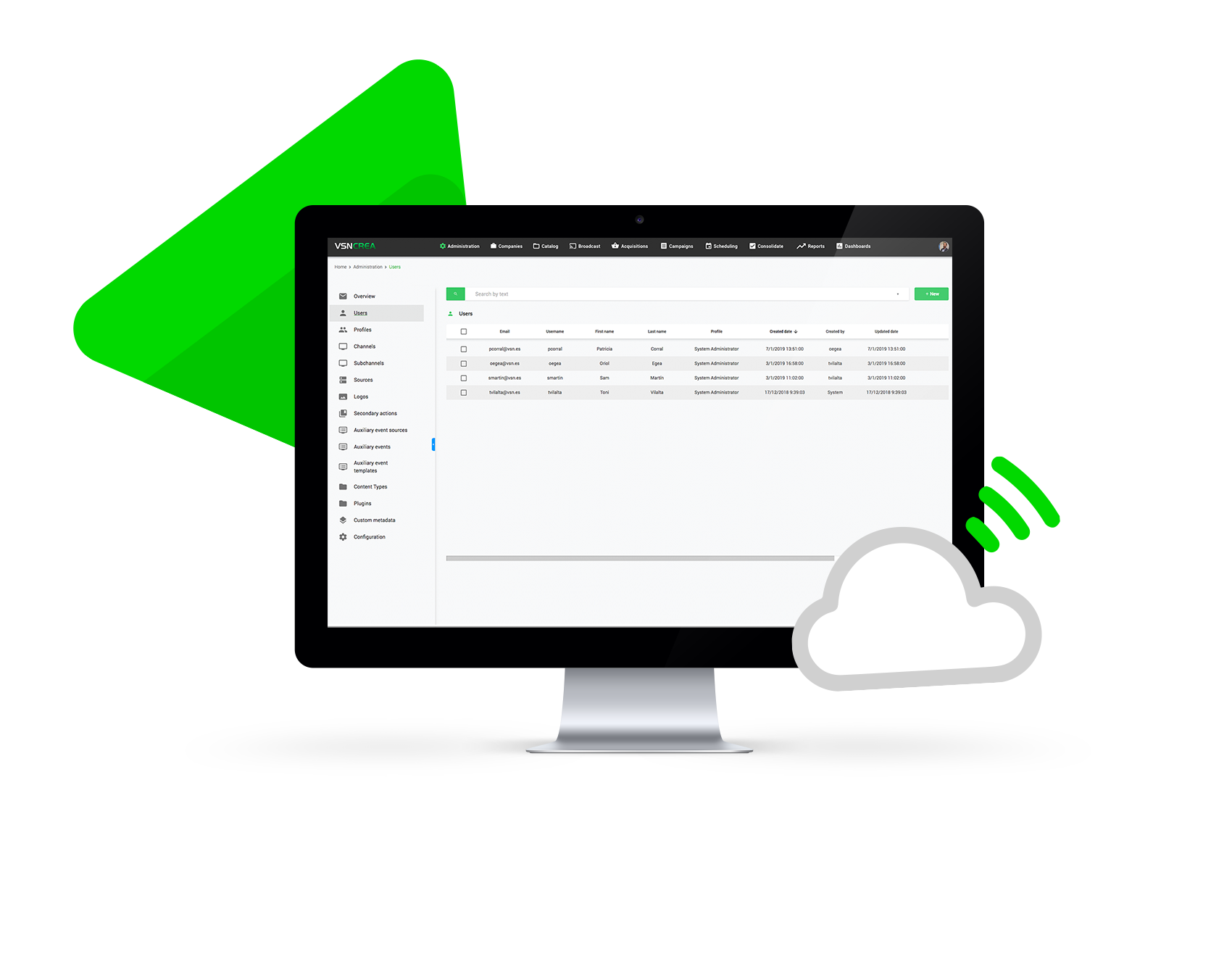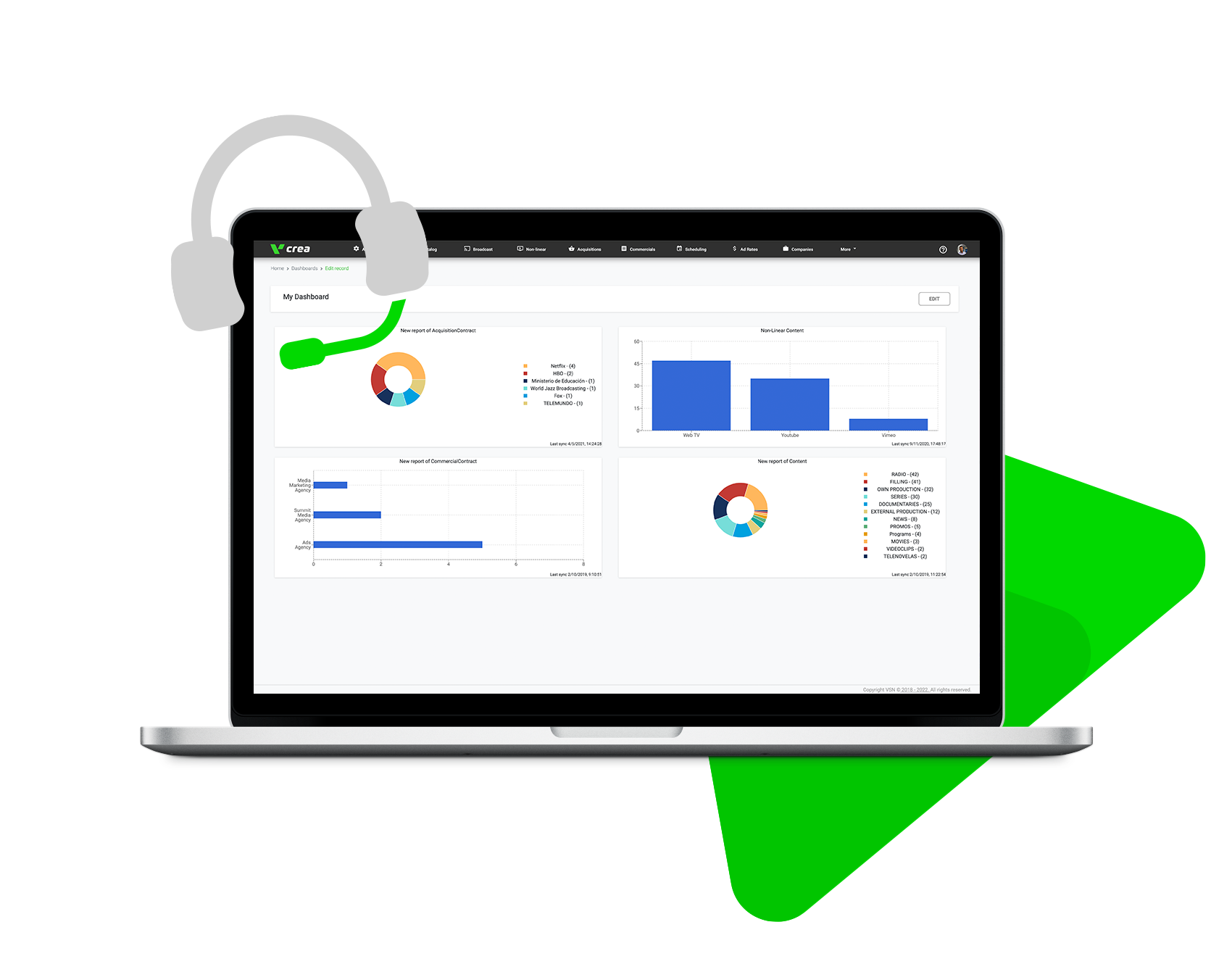 Request your temporary trial period and discover VSNCrea Cloud
Want to try VSNCrea Cloud?
Contact our sales team and request your temporary trial period
Discover our plans from VSNCrea Cloud from 990€/month
Fill this form for more information
Find out all VSNCrea can do for your content scheduling