VSN's scheduling software for TV planning and programming extends its functionalities for recalculating programming, as well as for creating advanced reports of auxiliary events, comprising new segmentation filters to optimize their tracking and the adverts' monetization. All the innovations included in this tool will soon be showcased at IBC fair in Amsterdam.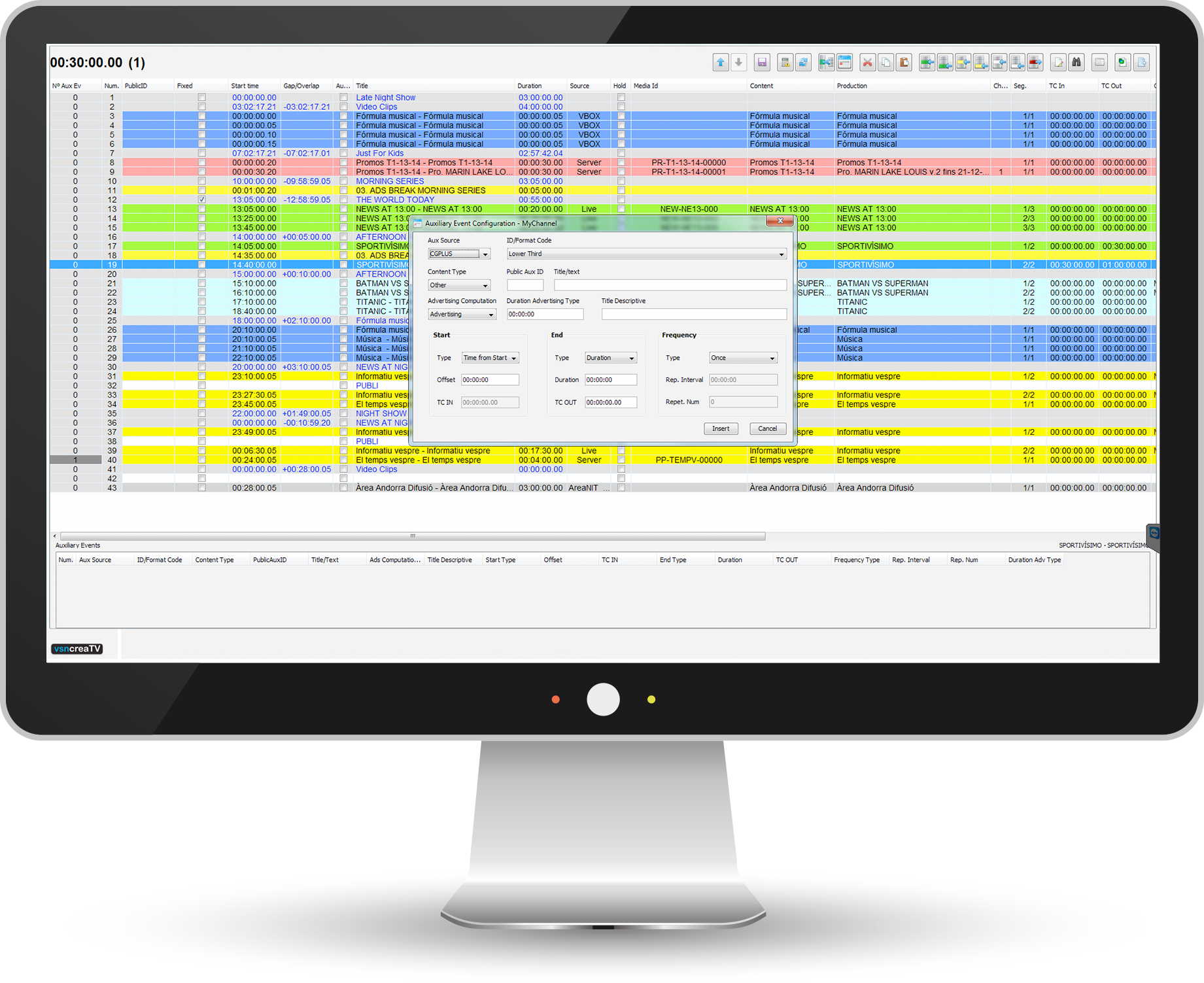 Traffic planning and management software VSNCreaTV expands its functionalities on the occasion of the biggest event for Broadcast and Media industries in Europe, the IBC Show 2017. Among the most recent innovations included in this tool, two software developments stand out to optimize its efficiency, as well as to facilitate the billing of broadcasted advertising and therefore, optimize its monetization.
Firstly, VSNCreaTV system will now be able to generate reports of auxiliary events or lower third graphics. To date, this software only allowed users to extract reports of those advertising clips that were broadcasted as "main events". This feature, although very interesting and extremely useful, left out of those advertisements broadcasted in the form of logos, lower third graphics or any other auxiliary event of this type.
Thus, the latest version of VSNCreaTV allows now to generate reports based exclusively on these auxiliary events and even export them to an Excel file, in order to carry out a more accurate calculation of the total amount of advertising that has been broadcasted by a TV channel. Furthermore, this functionality will also allow to filter and segment information according to various parameters, so as to further adjust these reports to the specific needs of users. Among the new parameters included, now it is possible to segment by TV channel, date, type of content on which advertising has been broadcasted (program, news, series …), CG's source or graphic template, among others.
Alongside with this, another development recently included in VSNCreaTV allows to recalculate TV programming in the event of specific exceptions. For instance, this new feature will allow users to recalculate and change all the passes of a specific program or content, in case any specific event such as elections, bank holidays or breaking news, alters the TV programming. This way, it avoids manual changes over the programming list for the next weeks or months.
Both software developments, along with other improvements included in VSNCreaTV, will be showcased at IBC fair in Amsterdam. Those people interested in watching them the live will be able to do so at booth 7.D25. Also they can book a product demo in advance through VSN's corporate website for this trade show.