The employees of the leading company in innovation and media management technologies have enjoyed two days of activities, games and group exercises in the town of Montanejos, including a rafting event in the Mijares river, with the aim of creating strong bonds between the staff from the company's headquarters in Barcelona and from its innovation and research center in Alicante.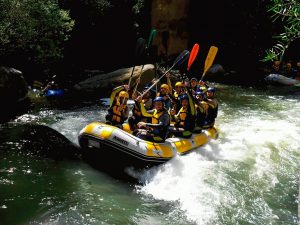 The almost 60 employees that VSN has in Spain have had the chance to know their colleagues better and to develop group tasks to promote and develop the company's values. Innovation, closeness, experience and adaptability are VSN's core values, and its employees are expected to develop them in order to be aligned with what the company communicates to its public.
Different activities were made to encourage synergies among the company's employees, to discover the environment and to adapt to special situations. Knowledge and adventure tests were passed, and the staff had to relate closely to the local people to promote VSN's core values and learn from different situations to keep offering the best results to the company's clients.
Jordi Utiel, VSN's CEO and promoter of the activity, declares that "the team that is part of this company is amazing, every one of them with great ambitions and dreams, and this company wants to help them grow professionally and develop all their potential. The activities have been very funny and useful at the same time, in order to make sure that the bonds between our Barcelona and Alicante teams are strong and integration is perfect. I think we are in our finest hour and I feel proud and grateful for all the people that makes this possible".
This Team Building has been developed to celebrate the excellent results of the company, that last year launched a renewed commercial and marketing strategy and obtained a 25% revenue growth with an important increase in number of projects around the world.