WEDIT
100% HTML5 web-based video editor integrated with VSN Explorer
Improve your video editing and media management with Wedit in the cloud
The web-based video editor Wedit increases efficiency in media management and video editing through its cloud-based functionalities, whether assets are stored in deep archive, nearline or online files. Its integration with VSNExplorer allows an easy location and editing of media files within a single interface, just by dragging and dropping content to the timeline.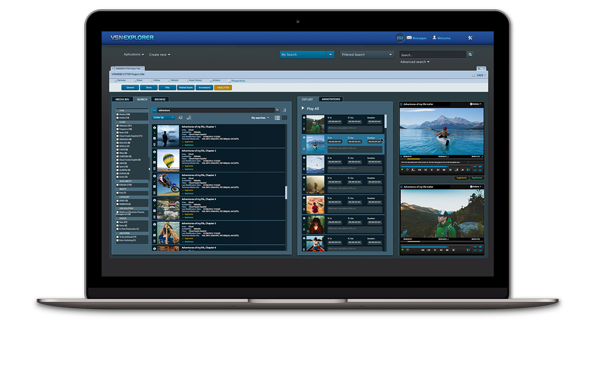 Advanced search & cataloguing
Quick segments' location & editing
Export EDLs to any other NLE
Automatic retrieval from any storage
COLLABORATIVE WORK
The possibility of working in the Cloud allows that users can share assets between each other from different locations, boosting collaborative work and obtaining, therefore, a greater efficiency. Wedit projects, treated as a different type of assets within VSNExplorer, have their own permits' system that can be modified manually or through automatic rules.
INTEGRATION WITH NLES
Although Wedit offers most of the features of any editing program, it also allows to finish projects in Non Linear Editors (Adobe Premiere, Final Cut Pro, Avid Media Composer…), by downloading the EDLs to export sequences and, subsequently, including the final result back into the MAM system for archiving or distribution.
LEVERAGING METADATA
The joint work of Wedit and VSNExplorer MAM allows to take advantage of data and metadata for a more effective location of the content for its subsequent editing. This search can be done not only by the time codes, but by any type of metadata,such as format, bitrate or even by the automatic audio transcriptions made by VSNExplorer MAM. It is also possible to use VSNExplorer MAM parametric metadata to catalog Wedit-type assets, making retrieval even faster.
MEDIA CONSOLIDATION TO DIFFERENT FORMATS
Wedit allows to consolidate and publish in any video format, destination and screen. This consolidation can be done using multiple video formats, according to the needs of distribution and regardless of the location of the edited material, since the system automatically retrieves only what is necessary for such consolidation, optimizing the transcoding and transfer time.
WORKING ON WEB (HTML5)
Wedit is fully developed in HTML5, which makes possible to use it from any standard browser (Windows / MAC / Linux) and even from any device. In addition, Wedit offers a unique user-friendly and customizable interface, from which you can perform all the editing tasks.
ADVANCED EDITING FEATURES
Today, Wedit allows cut editing in low-res, generate editing lists from these segments and perform frame-accurate in and out marks. Similarly, the generation of keyframes through automatic detection of every change of scene allows a quicker location of assets and cuts. Wedit has a timeline where both video and audio content can be easily dragged, and combines different media tracks for a complete editing.
Do you want to see Wedit in action?