NEWS PRODUCTION, ARCHIVE & NRCS · END-TO-END SYSTEM
Kantipur TV is the leading private television station in Nepal, which started operating in the country in July 2003. Commonly known as KTV, it has grown significantly in the last years and it has marked a milestone in the broadcasting history of Nepal. Based in the enlargement of their facilities, Kantipur Television Network decided to fulfill a complete renewal of the technical environment too back in 2011. The challenge was to become the first channel in Nepal to have a full tapeless working system.
Two SD broadcasting channels upgradeable to HD
Redefinition of their workflow to be more efficient and save costs
Improve the quality of the On Air image
Download the full case study and review the complete workflow
'Nowadays, TV channels must have a quick, efficient and ready-to-respond support service, in order to operate and develop its daily work in a robust and safe way. And that is precisely what we have found in VSN. We have never felt alone on air, and the answer time of its engineers is unbeatable. VSN's systems allow us to control all the news' workflow and channels' automation. It ensures that we can manage all the media cycle workflows, something that at the end of the day makes our work easier, faster and more productive'.
Matindra Pradhan, Executive Engineer at Kantipur TV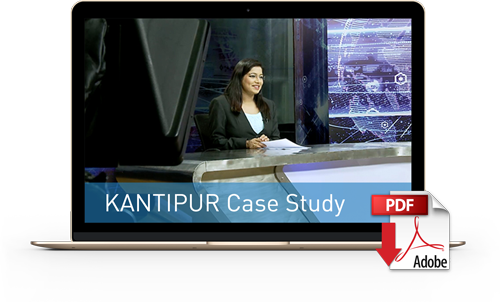 100% Digital Newsroom
VSN's End-to-End system
provides Kantipur with an ingest system for 4 simultaneous channels, 20 licenses for journalists and 10 for post-production, and simultaneous access to the shared storage and archive.

Support Service 24/7
Thanks to this successful project and technical work, Kantipur has hired and renewed its trust in
VSN's technical support team
to secure the success of its operations for the last five consecutive years.