Media Planning solution for flexible programming & advertising planning
Flexible programming & advertising scheduling
Manage your company's content catalog, either own productions or acquired from third parties, as well as your advertising and broadcast programming. Easily monetize your content and automate the scheduling of your linear or non-linear channels with this solution specifically designed to meet the most demanding needs in content planning.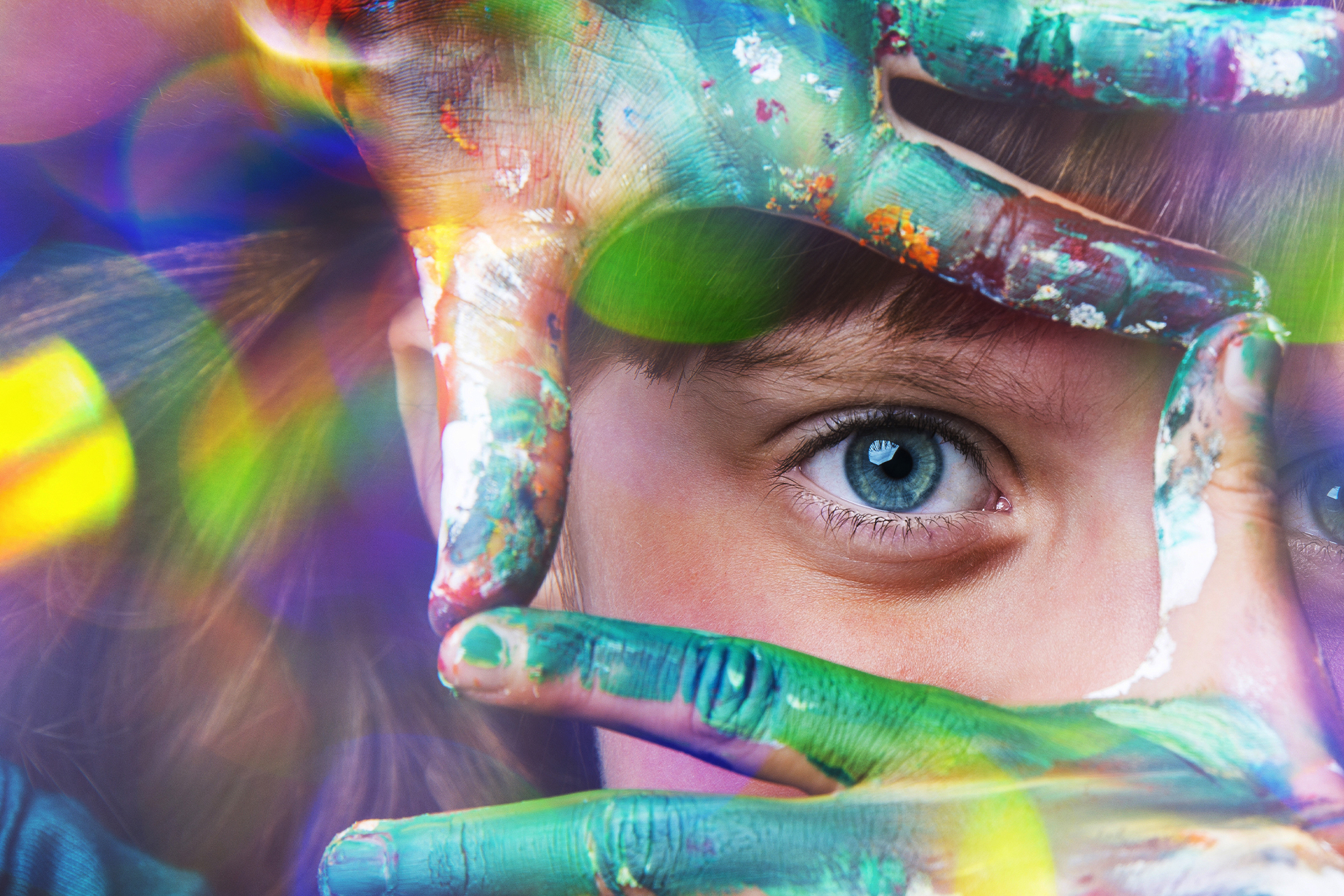 Discover the solution's products
Automate the scheduling of your channels
HTML5 traffic and scheduling system for flexible programming & advertising planning in TV and non linear channels. It enables the management of a company's content and advertising catalog and the planning of its traditional broadcast or content publication on VoD channels, OTT, websites or social networks without limits.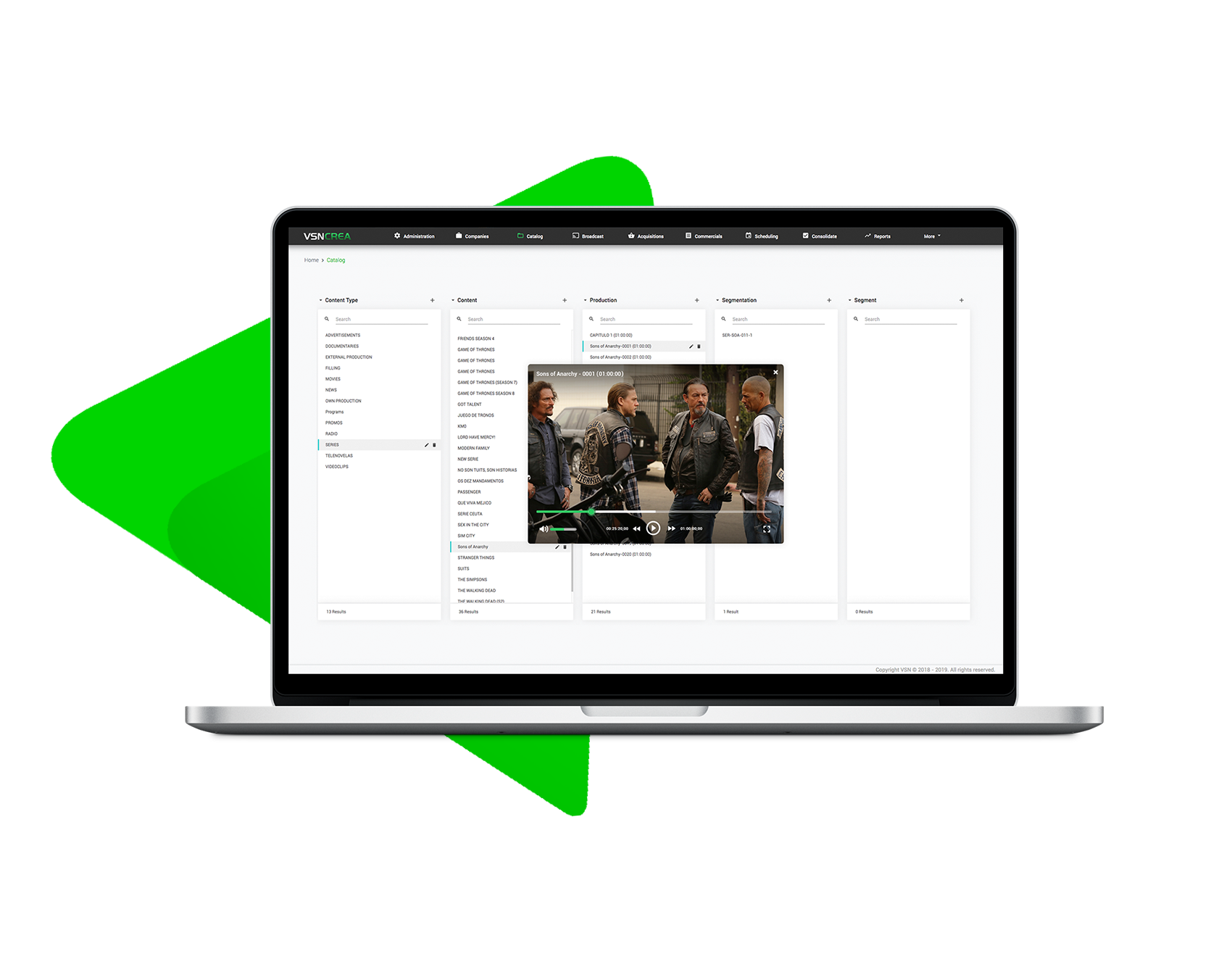 VSNExplorer MAM offers all the necessary tools to manage and orchestrate the entire media lifecycle of any broadcast and media company, private corporation or public institution, from cataloging to advanced content search, preview and editing, quick retrieval and archiving.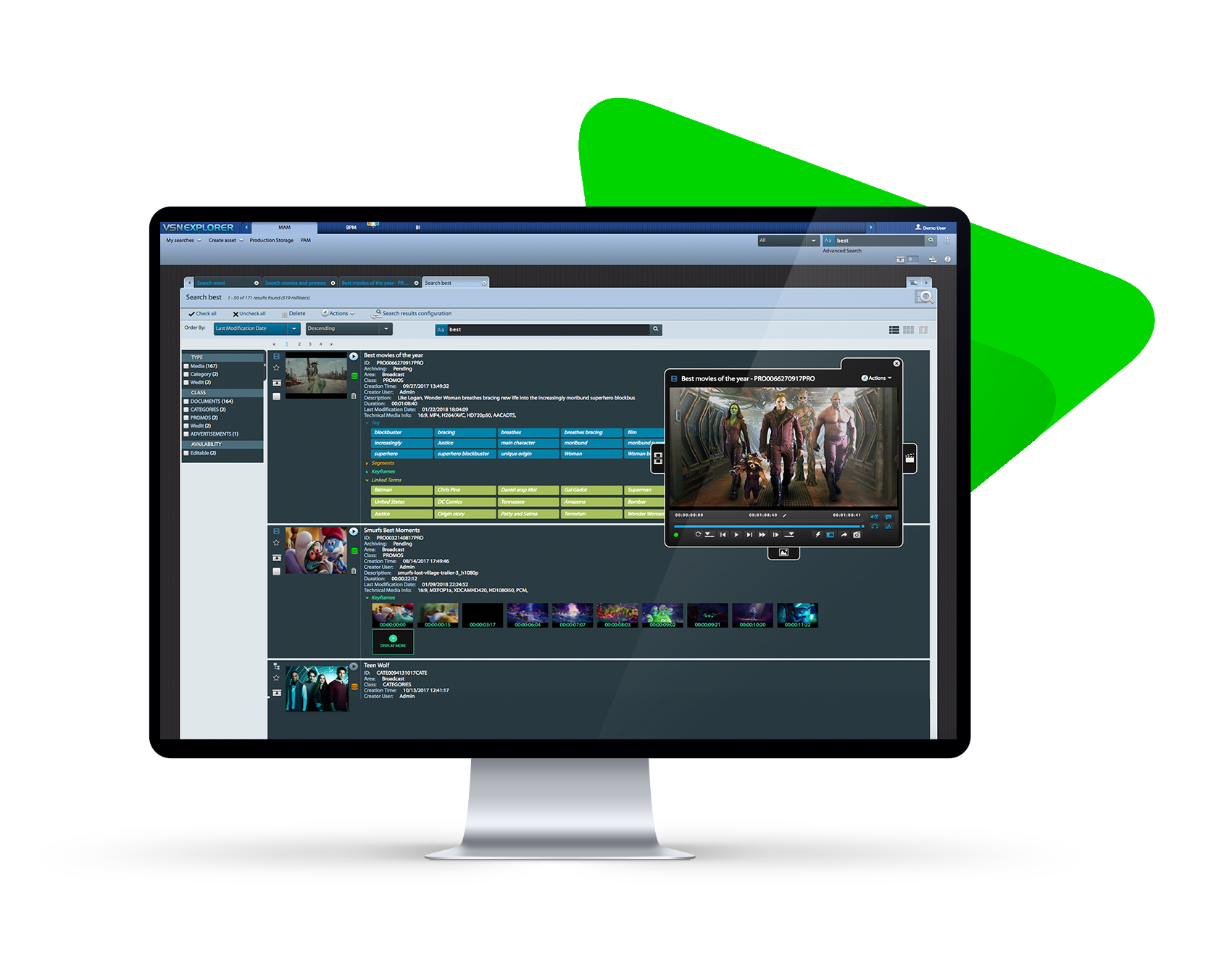 Define a logical and automatic flow of activities or tasks from start to end, in order to accomplish a specific goal. Optimize the integration between different systems and departments within your business, while automating repetitive tasks to be performed in the background.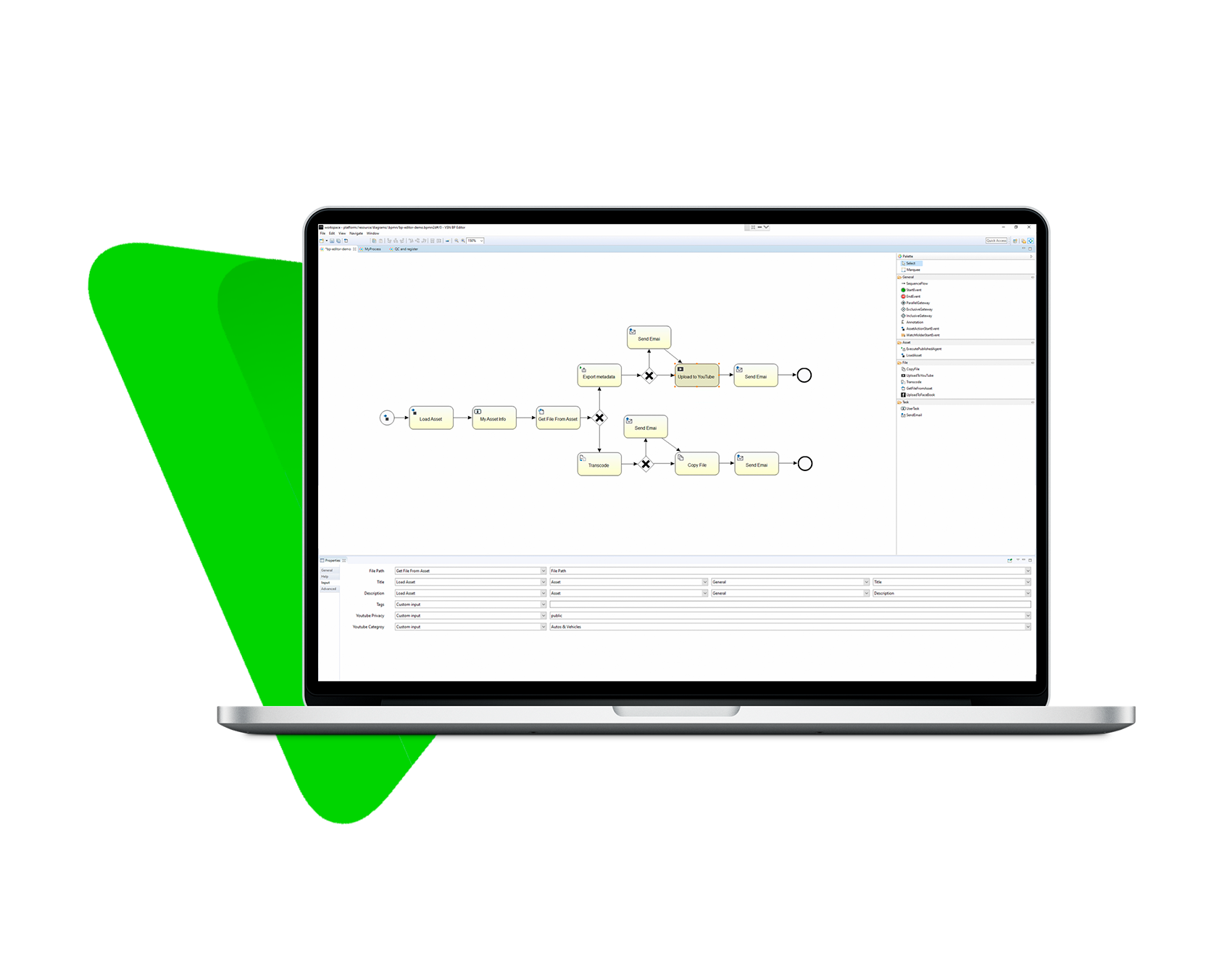 A complete set of analytical and reporting tools included in the VSNExplorer platform that transform the company's metadata and all the information extracted from third-party systems into meaningful reports, charts and dashboards that can even be customized for business analysis purposes.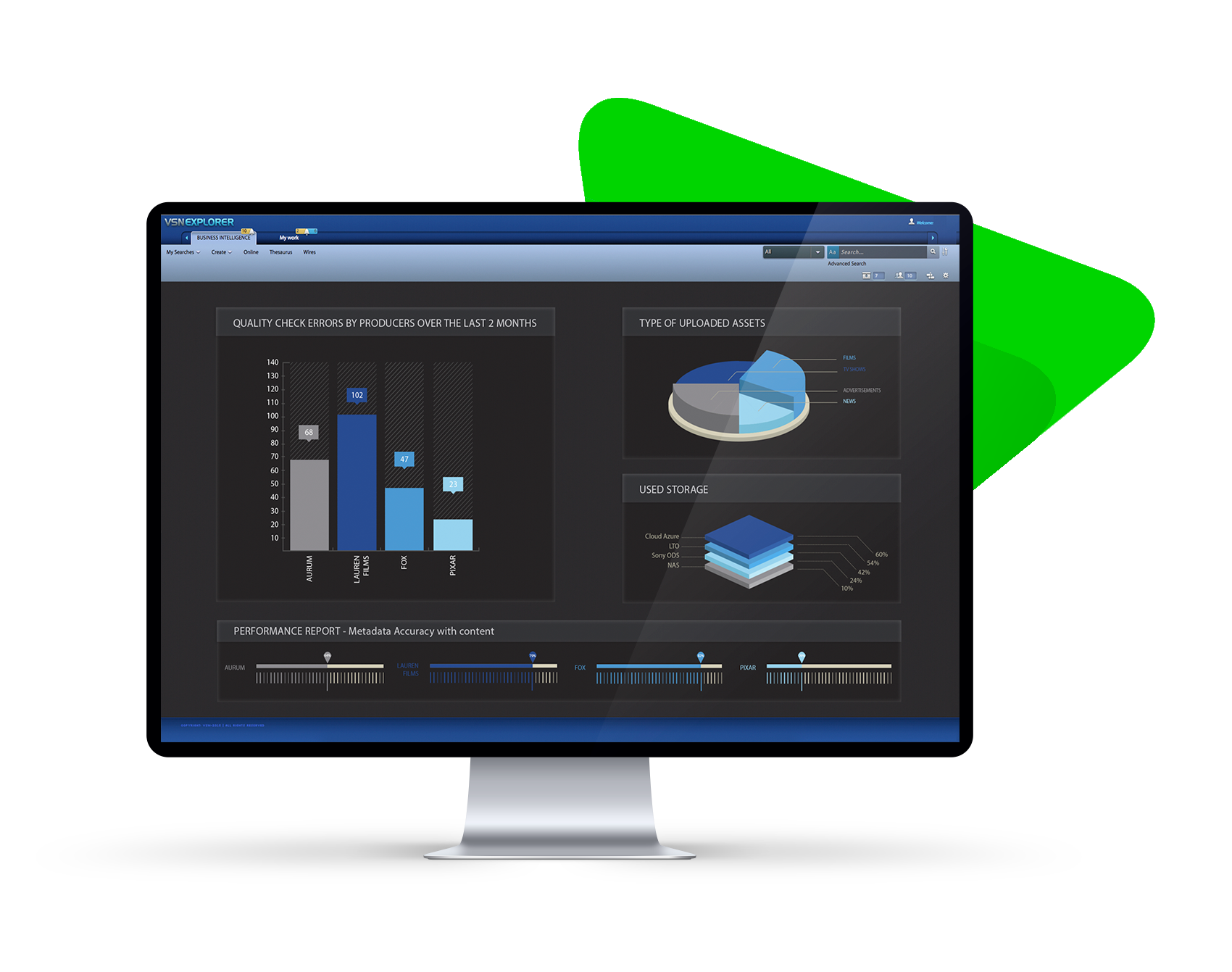 All you need, we deliver! Request your custom demo today
Who is this solution for?
Traditional television networks
Automates advertising planning from a very intuitive and interoperable web-based platform
The Media Planning solution transforms the way traditional TV content and advertising is planned and scheduled. With more than 10 years of experience with traffic and scheduling systems, we have designed VSNCrea, a 100% web-based system that integrates seamlessly with all types of third-party systems (MAM and playout systems, AsRun logs...) and that includes advanced tools for the automation of advertising scheduling.
Companies with non-linear channels
Manage the publication of content on your non-linear channels and the publication rights of your productions
This solution is ideal for OTT and VoD platforms, telcos or any company that wants to manage non-linear channels. Publish and and unpublish your contents in one or more channels simultaneously in an easy and fast way. In addition, it offers intuitive tools for managing the company's content and advertising catalog and the publication rights of the productions.
Big corporations and enterprise groups
Set up rules for managing your media files and distributing your content across multiple platforms
This solutioncan becomes a great ally for large corporations and business groups, which need to manage a large volume of media files and distribute their content to private VoD channels, websites or social networks without limits. The seamless integration with the VSNExplorer platform allows the management of the media based on rules specified in the planning system, VSNCrea.
What?
Complete scheduling and broadcast automation solution that allows for the content to be geographically segmented and distributed to 80 stations across the country.
Who?
The Mexican television network, Imagen Televisión, that broadcasts two signals: HD image of general programming and Excélsior TV, a 24-hour news channel.
How?
End-to-end broadcast automation workflow with a scheduling system that allows for territorial disconnections for regional news and electoral content.
What?
To launch Radio Centro's first DTT channel, commercially known as La Octava.
Who?
The Media Corporation Grupo Radio Centro, which owns several radio stations and numerous frequencies in Mexico.
How?
Complete and perfectly integrated workflow that includes our HTML5 traffic and scheduling system, VSNCrea.
The key to our success is our customers. Discover why companies in more than 100 countries have already trusted VSN's solutions
The greatest success stories of our customers deserve to be shared