Media Preservation solution for media archive management
Media Preservation to take care of what you value most
Benefit from a long-term media protection with VSN's Media Preservation solution and improve the reliability of your archive, whether it is a deep archive, nearline, online or in the Cloud. Automatically catalog your content and search, locate and retrieve your media files easily whenever it is needed.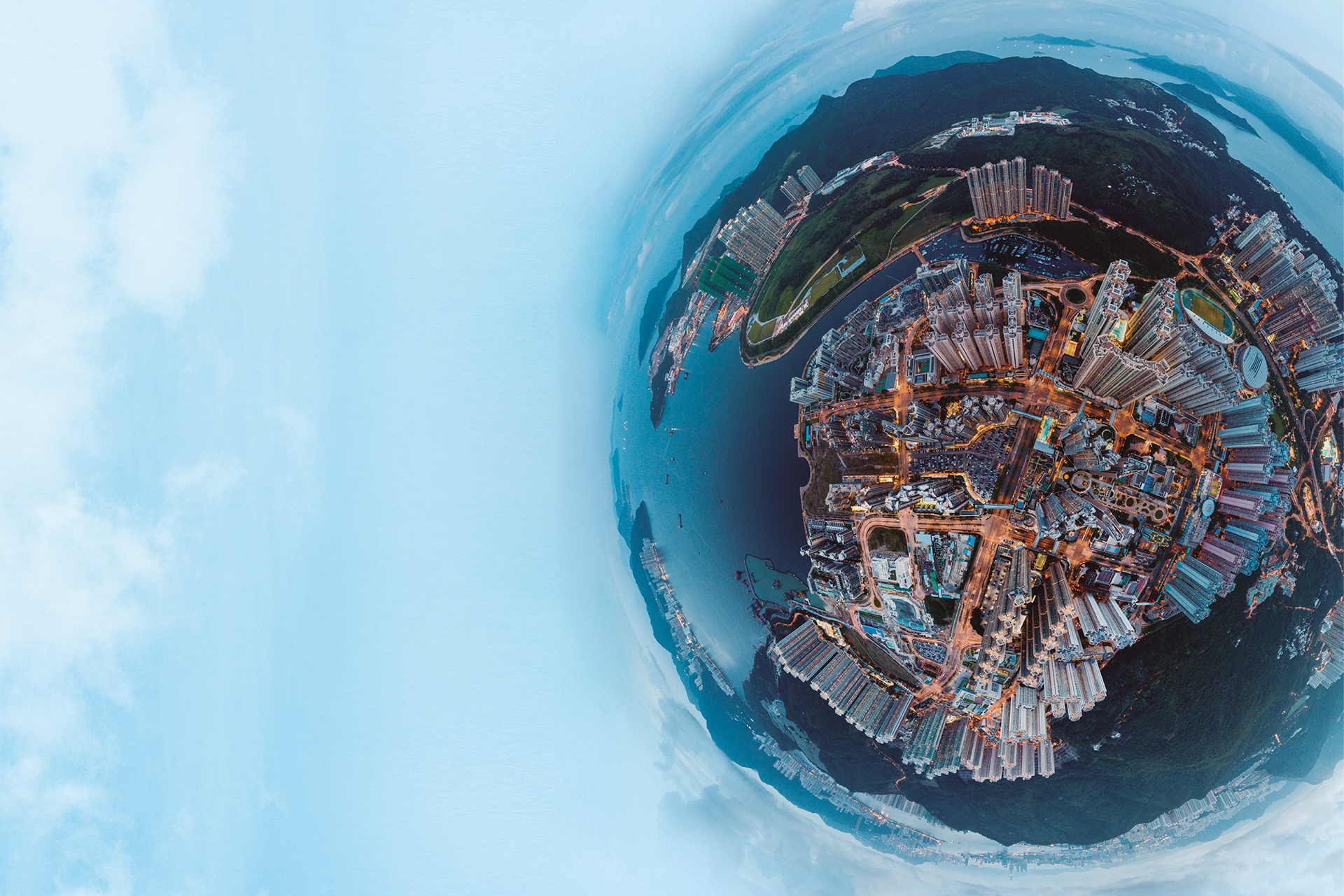 Media Preservation products include
Catalog, store, search, preview & retrieve
VSNExplorer MAM offers all the necessary tools to manage and orchestrate the entire media lifecycle of any broadcast and media company, private corporation or public institution, from cataloging to advanced content search, preview and editing, quick retrieval and archiving.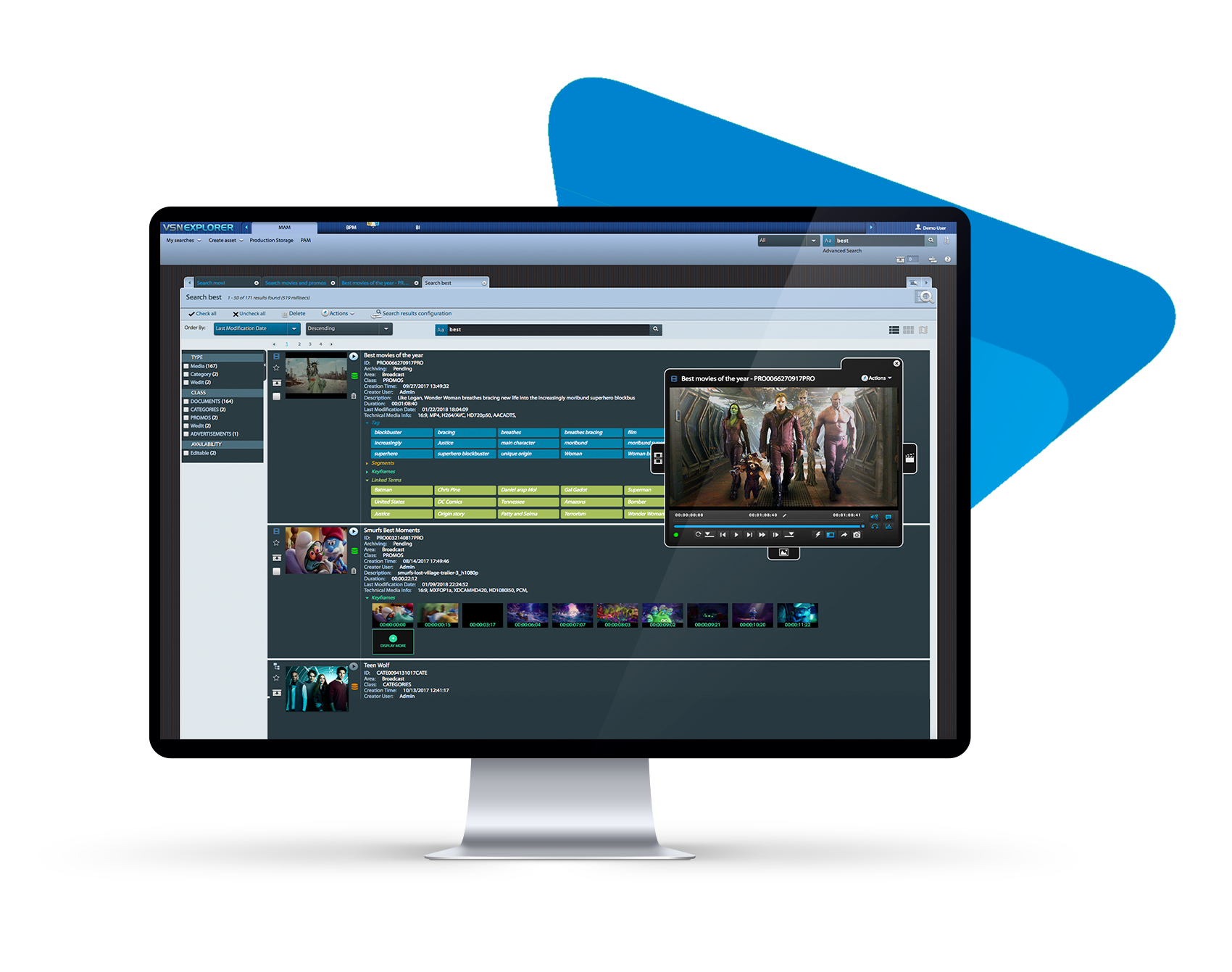 VSNExplorer integration with AI engines from top providers such as Microsoft Azure, IBM Watson, Google Cloud, AWS or its own VSN AI allows for automatic metadata detection and cataloguing. Metadata can relate to file characteristics (format, size or date of creation) or to its content, whether it relates to video (image processing, object detection and contextual information), audio (speech-to-text, text transcription and translation, or audio effects detection), actions performed, sentiment (positive, negative or neutral) or people (face recognition).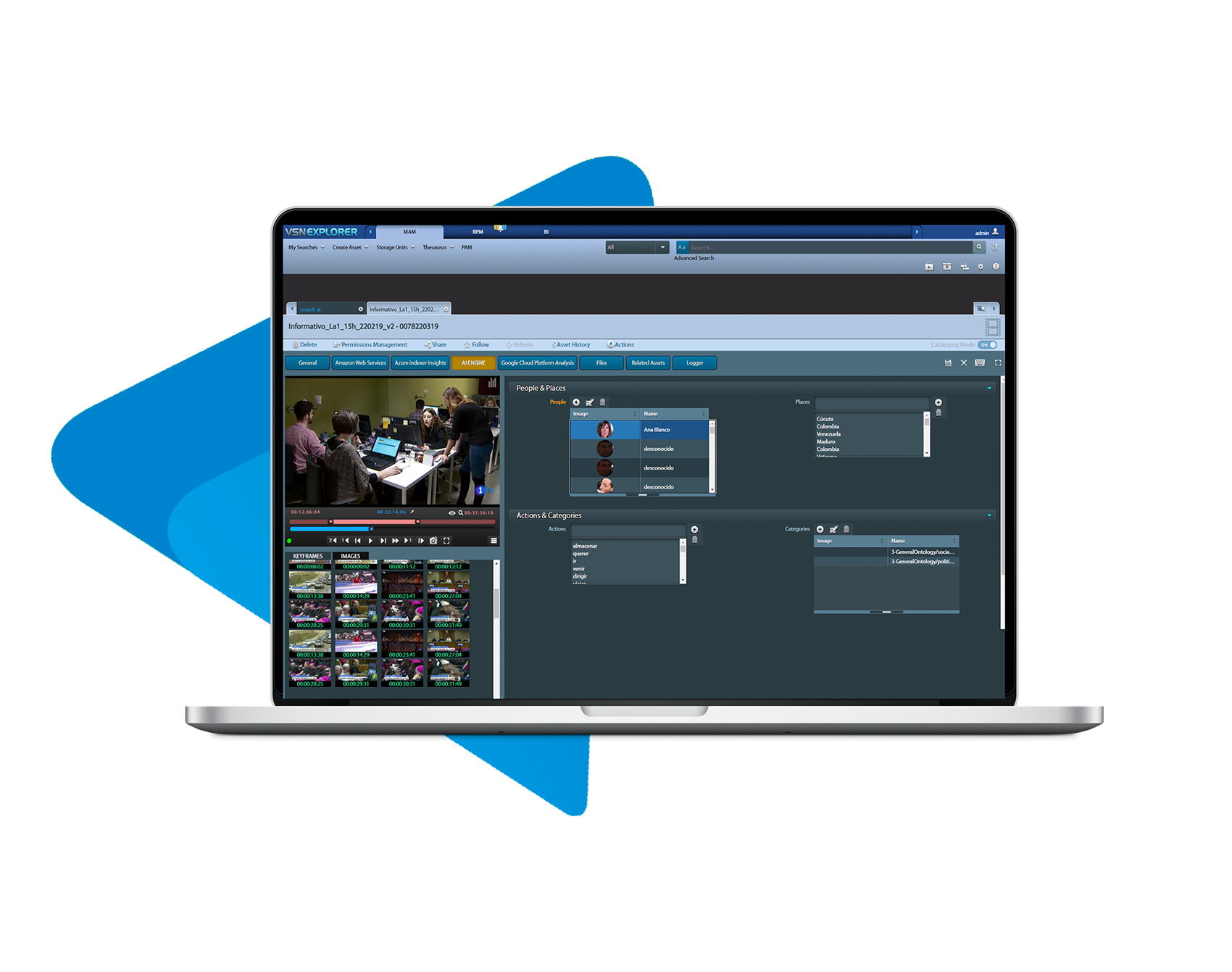 A complete set of analytical and reporting tools included in the VSNExplorer platform that transform the company's metadata and all the information extracted from third-party systems into meaningful reports, charts and dashboards that can even be customized for business analysis purposes.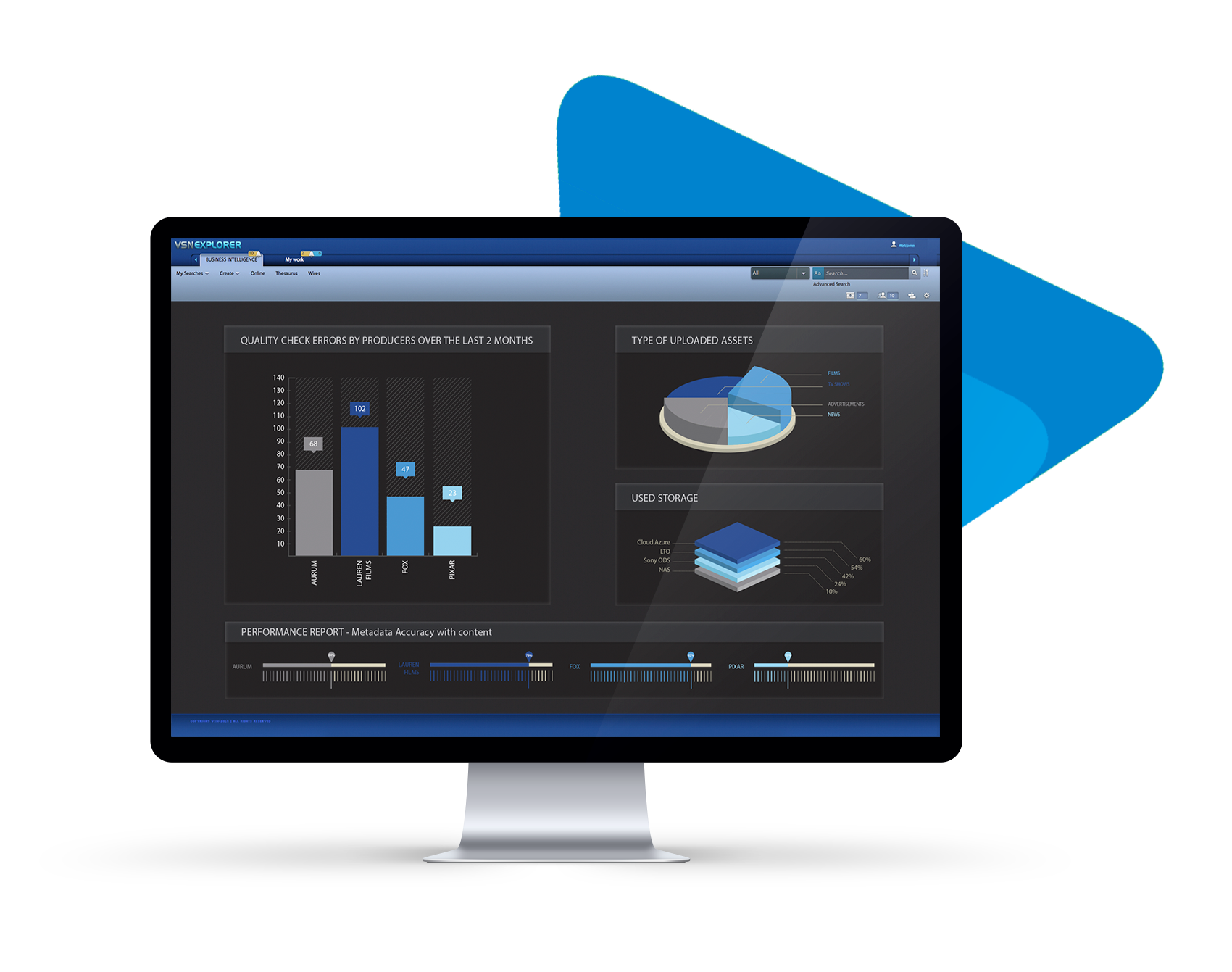 VSN's tool for Quality Control is capable of detecting technical errors that affect media files in each and every stage of their life cycle. It offers exhaustive information about the content's quality, warning users about any error that must be corrected and ensuring the minimum quality standards for broadcasting.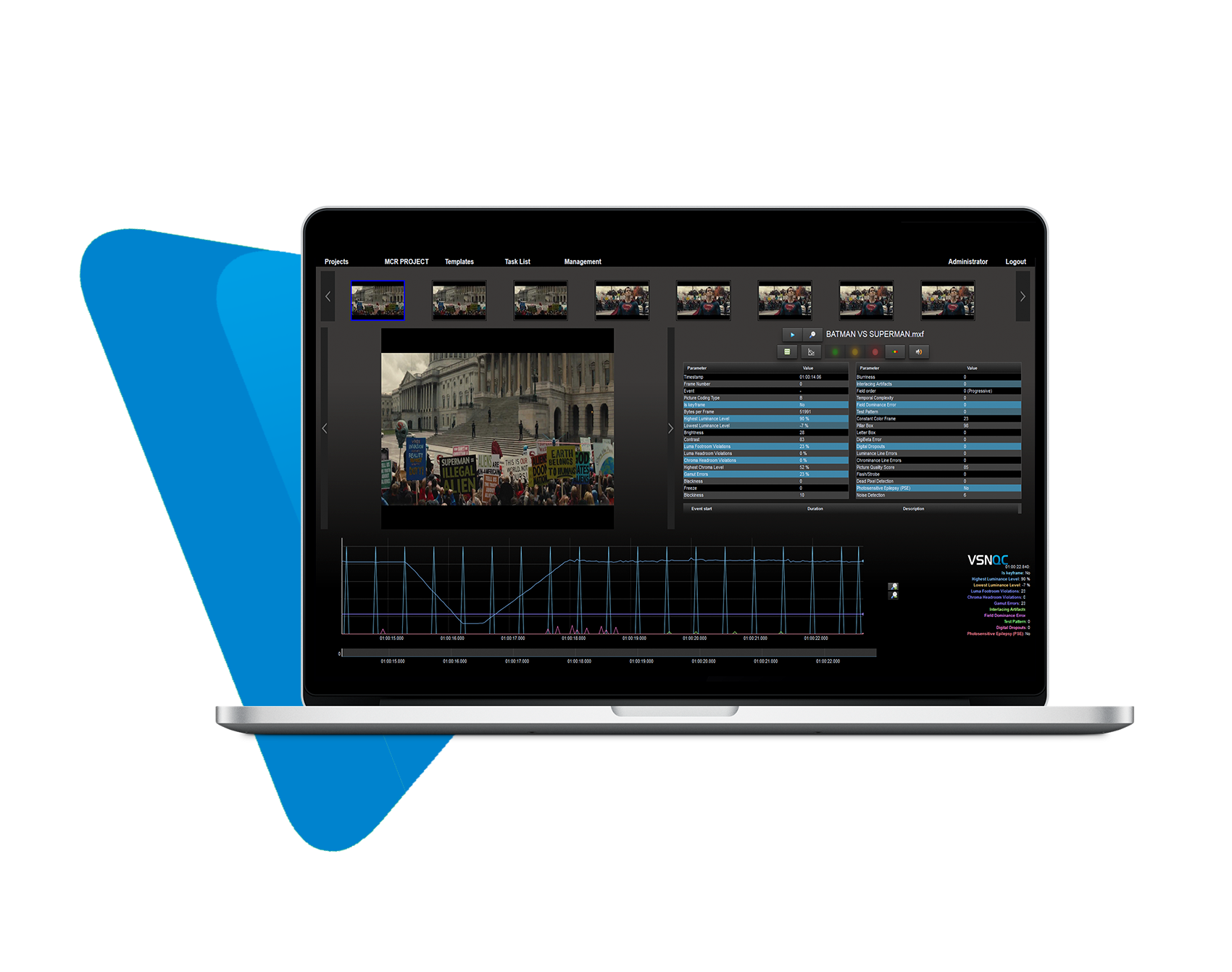 All you need, we deliver! Request your custom demo today
Who is Media Preservation for?
TV Broadcast and digital platforms
Catalog, organize, store and locate your media assets with the most reliable management solution
Both profiles can take advantage of this solution, which allows assets to be cataloged with artificial intelligence-fed metadata, organised and stored for immediate use, or listed for later use as they are ingested, improving efficiency and coordination at all levels. The solution also integrates seamlessly with third-party systems and manages any storage, becoming the most reliable media core for daily tasks.
Coordinate your daily needs, secure your contents in a 100% Cloud environment
Any organization of any size can access a cost-effective solution for archive management: Marketeers, event, information and product managers will enjoy a centralized system to coordinate their daily media operations, but each department can also enjoy keeping their shared media at hand in an intuitive space. This solution can be very useful both for large corporations with many subsidiaries to coordinate, and for smaller, decentralized companies, thanks to the possibility of having all content in the cloud.
Private and public organizations
Control your media's quality, digitalize, migrate and retrieve exactly what you need
If media is a fundamental part of your activity, this solution can help you in many ways: both as an audiovisual corporation with infinite content libraries to maintain in maximum quality, as if you are a public entity that wants to digitize and migrate its historical archive, or a legal entity that needs quick access to the right clip in your deep archive system, this versatile solution can be the perfect tool to meet the needs of your project, adapting to the complexities of any situation.
What?
A system that would be the sole repository for the safe and future-proof archiving and managing of their clients' media content while providing simple, efficient and reliable access.
Who?
Videhouse, a Belgian production company that offers creative and technical services to customers worldwide.
How?
A beskpoke solution with a Multi-tenant MAM at its core and complemented with other VSN modules (PAM, BPM and BI).
What?
Organize, edit and distribute the content generated in their E-sports events.
Who?
Riot Games Brazil, the national League of Legends championship organization.
How?
Through the implementation of a deep-archive system that allowed to add, search, locate, edit and distribute content via VSNExplorer MAM and Wedit.
What?
A complete system migration and upgrade of the Media Asset Management used by the organization.
Who?
Radiotelevisión de la Región de Murcia (RTRM), a Spanish regional broadcaster.
How?
Through a smooth and intuitive transition made possible thanks to VSNExplorer MAM, with the addition of BI capabilities through VSNExplorer BI.
Our customers are the key to our success.
Discover why companies in more than 100 countries have already trusted VSN's solutions.
The greatest success stories of our customers deserve to be shared