The selected project for taking part in the awards competition has been developed by VSN for TSA with the goal of manage in a customized way the content broadcasted by the company in Spain and Latin America through its OTT platform. The IBC Awards, that will be granted during the next IBC trade show, give international prestige to those projects who bet on implementing creative technology solutions for increased collaborative work and efficiency.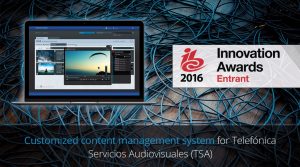 VSN Innovation & Media Solutions will take part one more year at one of the most important Media & Entertainment trade show, and this time with a revolutionary project, ""Customized Content Management System for Telefónica Servicios Audiovisuales (TSA)", that is one of the nominees for this year's IBC Innovation Awards.
The awards that this trade show gives every year to key actors of the industry seek to give diffusion to those technological projects that implement creative solutions to further develop internal practices and workflows in the Broadcast, Media & Entertainment industries, with special attention to user's efficiency and experience. The use of state-of-the-art technologies and innovative approaches to the client's need are basic requisites that the international team of judges will value when deciding the winners.
In particular, the project presented by VSN and TSA shows how the digital media management for TSA's OTT platforms in Spain and Latin America includes all the technological innovations and state-of-the-art features currently available in the market, thanks to the installation of an advanced MAM system.
Installing a flexible and customized MAM, perfectly adapted to TSA's needs, allows the company to work with a unique and centralized system from which content can be shared and exchanged, in order to broadcast audio visual content for the Telefonica group in both Spain and Latin America without depending on physical formats. Moreover, this new system has improved the workflows' efficiency thanks to the automation of various processes that until now were carried out manually. Among others, there can be highlighted a few of them, such as the automatic subtitles' production for the content or the incorporation of metadata, so as to instantly index and locate content within the platform.
The awards ceremony will be held during the IBC tradeshow, from the 8th to the 12th of September 2016. The event will take place, as usual, at the RAI Auditorium.