VSN culminates its participation in the most important fair for the broadcast and media industries that took place in Las Vegas from the 24th to the 27th of April. The company had a great influx of public in its booth and also closed some new important agreements during this year's show, where its new web video editor Wedit became the star attraction.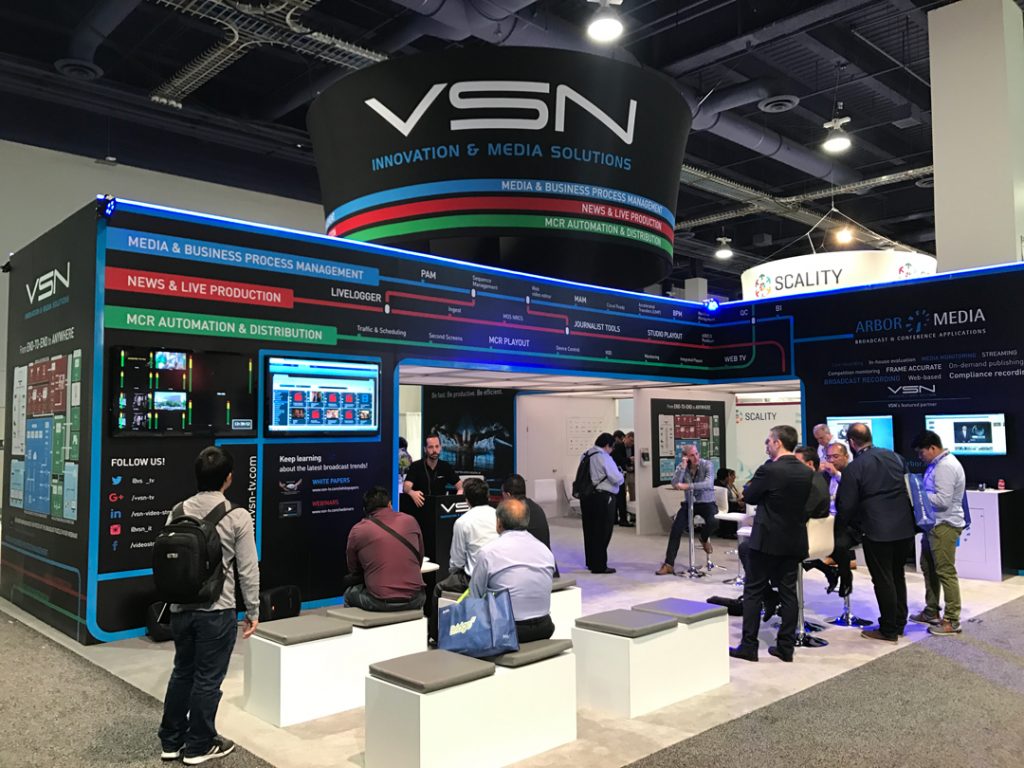 Once again NAB Show 2017 became the main meeting point for the broadcast and media industry, with a global attendance of more than 103,000 visitors and up to 1,800 companies from all over the world. The event also concluded very successfully for VSN, given the large number of people that visited the company's booth and also given the expectation built around all its latest innovations that were officially presented during this four-day trade show.
Among all of them, the new video editor Wedit, integrated in its star product VSNExplorer for media & business process management, became the main attraction of the show. This new 100% percent web-centric tool allows journalists and video editors to manage and edit all their clips in the Cloud from a single interface and without having to switch to any other third-party NLE system to finish their creations -therefore saving a great amount of costs in acquiring these NLE licenses. Its innovative features and ease of use have undoubtedly become VSN's star attraction in this edition, grabbing all attendees and press attention alike.
Along with this, another of the most impressive innovations presented has been the integration between Ross Video's Inception and VSNExplorer. This system for news production has recently been improved and it includes now among its latest features the VSNExplorer MAM system for managing media clips, as well as the aforementioned Wedit video editor. The combination of these three products allows journalists to finish their video pieces and news directly within a single system and interface, improving their speed and effectiveness in news creation and its delivery for broadcast or direct publication in social media. This product has been presented as one of the main advances of both companies in their respective keynote sessions and specially for VSN, it has also become one of the most requested products to watch live in the Demo area of its booth.
'We are aware that our customers need more and more not only to be faster at work, but also to have access to all their tools and media clips wherever and whenever they need to. The broadcast sector is evolving really quickly thanks to technologies like the Cloud and at VSN we keep adapting to this new reality, developing products that perfectly meet these new needs. Wedit and the latest integration between Inception and VSNExplorer are the perfect example of this.', says VSN's product manager, Toni Vilalta.
VSNQC solution for content quality control, the latest VSNExplorer functionalities for metadata and keyframes management, its integration with Online Thesaurus or the automation of territorial disconnections and TV audience segmentation thanks to VSNMulticom MCR system and VSNBroadrec for content monitoring were also some of the most requested products for live demonstrations, in order to watch in action all their applications and how they could cover the customers' needs in a customized way. This customized professional assessment service is precisely one of the main business models that the company has been looking forward to boosting even more in the last year and which has been a key of its success in the latest projects recently developed.
'This NAB, in addition to talking about products and innovations, we wanted also to share with our distributors how to help them transform their traditional business models and become consultants of media services in the broadcast and non-broadcast work environment alike. Because we believe there are potential new clients, not necessarily coming from a broadcast environment, who need to manage a larger and larger amount of content and do not know anything about how to organize and manage video and compression.' states VSN's director of global sales, Mario Diaz.
This was precisely one of the main conclusions drawn from VSN's keynote held at the start of the NAB Show at the Planet Hollywood Hotel in Las Vegas. The event, which kicked off the week of the fair on Sunday, April 23, became a meeting point for VSN and its Latin American dealers, and it was undoubtedly one of the key events of this year with a record attendance of more than 60 people. Moreover, all attendees to this session were invited to the upcoming training focused on VSN products and business development that will take place on the 17th and 19th of July.
VSN partners, Harmonic and Ross Video, also took part in this keynote to present their fruitful collaboration with the company and the latest developments jointly developed for Inception and the project for continuity automation deployed at Imagen TV de México.