VSN is ready for the beginning of IBC. From tomorrow until next Tuesday, September 19th, professionals of the company will offer at stand 7.D25 the best advice and present the latest technology of the broadcast sector. But if you still have doubts about whether you should visit VSN in Amsterdam, here you have 7 reasons to convince you.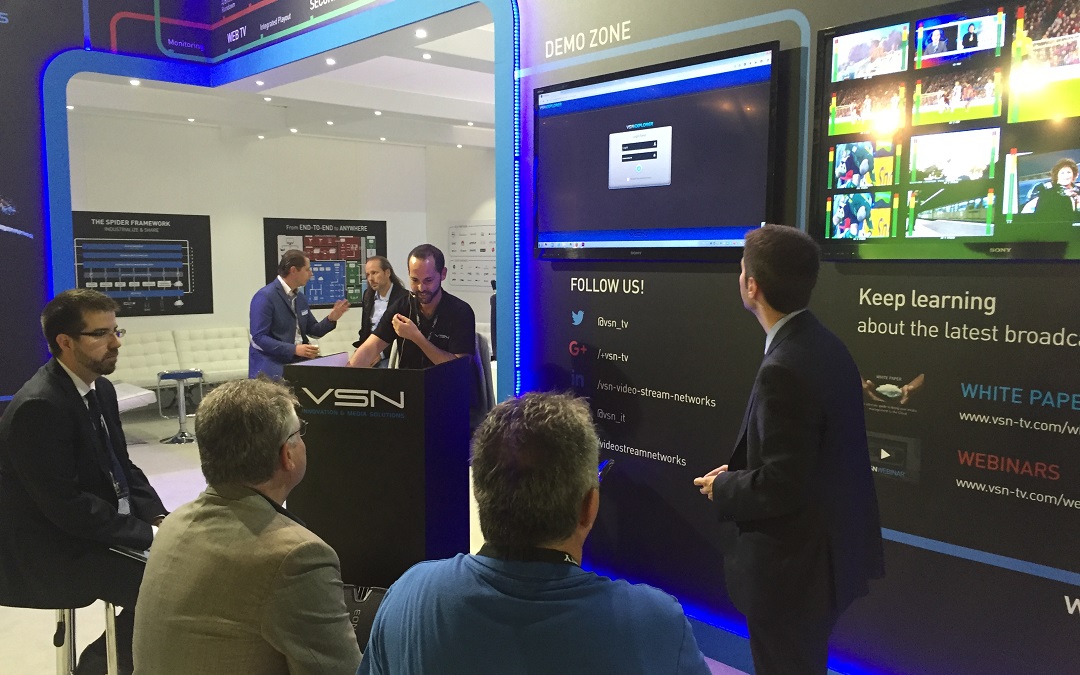 1. See the first End-to-End solution in the cloud in action: VSN is the first company to offer a complete on cloud workflow, from ingest to broadcast, thanks to the installation of four of its products in the cloud (VSNOneTV, VSNCreaTV, VSNExplorer and VSNWebTV). With this novelty, VSN allows audiovisual companies to manage all their content with only an internet connection and enjoy the benefits of cloud technology (cost reduction, scalability …)
2. New VSNExplorer PAM: driving production efficiency: IBC is the event chosen by VSN to present the new version of its Production Asset Management (PAM). Fully developed in HTML5, the new VSNExplorer PAM provides comprehensive project visibility, through functionalities designed to help production teams save time.
3. Wedit, finalist at the IABM Design & Innovation Awards and Best of Show Awards: Our new web-based video editor Wedit has been nominated for two prizes that will be awarded during the trade show. On the one hand, the international association IABM has included it in the Post Production category; on the other hand the publishing group NewBay has also chosen Wedit as a candidate for its TVBEurope awards. The winners will be announced on September 16 and 18, respectively.
4. Optimize time calculations and tracking advertising with VSNCreaTV: The broadcast scheduling software module VSNCreaTV will present new functionalities at IBC. These new features allow the generation of reports of auxiliary events or lower third graphics for a better control of advertisement, as well as the possibility to recalculate TV programming in the event of specific exception.
5. VSN products remain at the forefront: Other innovative features of VSN solutions such as VSNExplorer BI new custom reports, new VSNMulticom trimming capabilities or the latest integration features between VSNExplorer and Ross Inception, will also be available at IBC.
6. Learn about the advanced monitoring solution of Arbor Media and VSN: VSN's partner Arbor Media, with whom it has developed an advanced workflow for the management of media and legal copy, will be also at IBC's stand 7.D25. A unique opportunity to see how simple and effective monitoring content can be thanks to the combination of different solutions like VSNBroadRec, VSNMulticom or VSNCreaTV.
7. Take advantage of the VSN experience : VSN's stand at IBC (7.D25) has been designed to allow the performance of demos of all the solutions of the company, as well as to enable several visitors to receive advice from the different departments of the company in its different spaces. To request a Demo, complete the form on the following link.