VSNEXPLORER BPM

Broadcast Workflow Management software for business optimization
Optimize your broadcast workflows to reduce costs and improve productivity
Thanks to the Business Process Management tools included in the VSNEXPLORER BPM system, audiovisual companies achieve total control and visibility of their processes, increasing productivity of their employees, helping to detect and manage bottlenecks, orchestrating and automating processes and improving the integration of different systems and departments. In a few words, VSN's Broadcast Workflow Management system provides simplicity and efficiency, aligning operations with the business itself, available anywhere and at any-time thanks to its HTML 5 design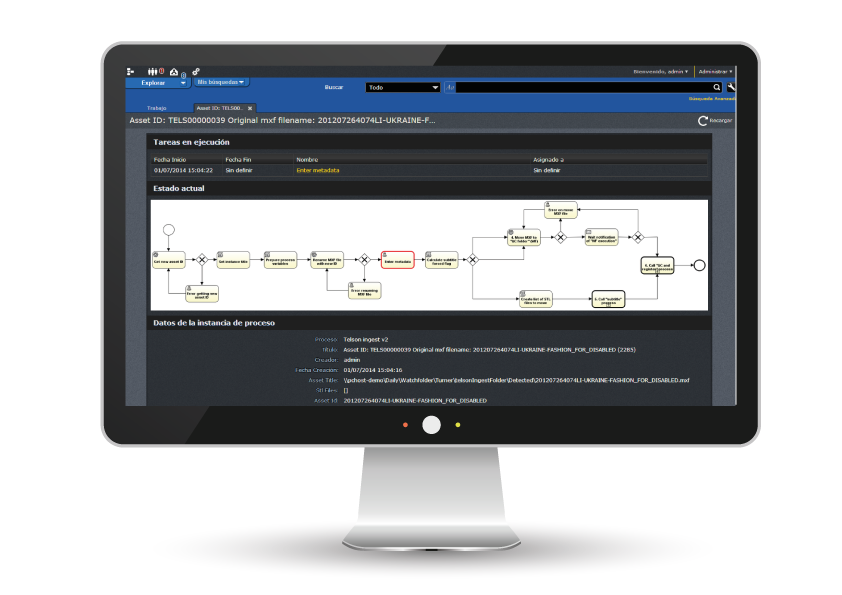 MANAGE ALL WORKFLOWS, ACTIONS AND TASKS
FULLY CUSTOMIZABLE BY THE USER
MAXIMUM PROFITABILITY FROM EVERY PROCESS
VISIBILITY OF WORKFLOWS AND ACTIONS
VSN's workflows viewer shows all processes in a graphical way. This makes it possible to know what jobs are being executed in each of the Business Process at any time and to detect inefficiencies, errors or bottlenecks in the workflow to keep improving over time. It is accessible from any browser with an internet connection and from any device thanks to its HTML 5 slick design.
TASKS ASSIGNMENT
Users can see at any time which tasks are waiting to be done. Thanks to VSN's Broadcast Workflow Management software, tasks are assigned to single users or to groups of users so they can select the task to perform from the list. With this feature, users know all the time what pending tasks they have and they are able to track the workload of various departments and balance it. In addition, this function allows certain users to make changes in the different workflows, avoiding unnecessary and long training sessions, since their tasks are automatically assigned by the system.
CUSTOMIZABLE BY THE CLIENT
The greatest advantage of managing business processes using a Business Process Management engine is the flexibility it provides for optimizing the company's processes. To take full advantage of this it is necessary for the system administrator has complete freedom to modify workflows, without relying on third parties to do so. This is why VSN has selected an open source engine for its Broadcast Workflow Management system that follows industry standards (BPMN 2.0) and that guarantees the client's independence and its compatibility with other editors.
BPM PROFESSIONAL SERVICES
Even though clients are free to manage VSNEXPLORER BPM by themselves, the system implementation can be complex for someone without previous experience. For this reason, the client can count at any time with the assistance of our professional services and take advantage of our experience in designing and implementing Business Process Management systems for the broadcast industry.
Do you want to see VSN's Broadcast Workflow Management system in action?