VSNEXPLORER BI

Business Intelligence Software for MAM, PAM and BPM
Make the best decisions based on your data thanks to VSN's Business Intelligence software
Nowadays, companies generate and store a huge quantity of data regarding their processes and relations. Make sense of all that data in order to extract from them clear conclusions to take the best course of action is the key to success in any sector. VSN's Business Intelligence software is capable of transforming metadata into information that adds value to the already stored data, presenting it in a simple way and enabling its users to make data-driven decisions. This will add a precious additional value to the solution, improving the customer's business processes and even opening new business opportunities for them.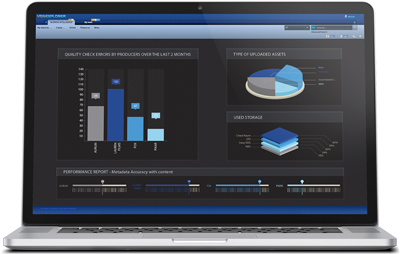 DIFFERENT VIEWS OF THE DATA
PERMITS FOR EACH DEPARTMENT
MAXIMIZE PROCESSES OPTIMIZATION
DETAILED REPORTS WITH THE COMPANY'S DATA
VSN Business Intelligence software offers a set of tools that transform its metadata into meaningful information for business analysis purposes. This layer is capable of extracting insightful reports for administration, finance and project management purposes, among others (only accessible through predefined permissions system). These reports have different views that can also be customizable, being the most common graphs or tables.
BIG DATA ANALYSIS
VSNEXPLORER BI offers total control and advanced analysis on the company's data, for every department and with the desired filters depending on the circumstances. Thanks to the reports generated from big data resources storaged by the company, the administrator can make the best decisions from the very beginning of each process, monitoring each business process from a single terminal, achieving a productive management of resources and increasing the turnover of the company.
BASE EACH DECISION ON DATA CONCLUSIONS
Thanks to VSN's Business Intelligence software, the data analyst can customize reports and select what kind of information wants to view or export, including quality check analysis, project status, transcoding errors and user performances, among others. The information extracted from the data can be displayed using different visualization techniques, and used to make decisions to optimize the internal workflow, allocate resources and improve efficiency based on statistical parameters.
BUSINESS INTELLIGENCE PROFESSIONAL CONSULTANCY
For those clients with no technological experience or with the need of assistance to learn to get the most from their company's data, VSN offers the consultancy services of its professional services, specialized in Big Data, data-mining and business process management for the Broadcast and Media & Entertainment industries.
Do you want to see VSN's Business Intelligence module in action?