VSNEXPLORER PAM

Production Asset Management Software Module
Don't lose track of your audiovisual contents
VSNEXPLORER PAM, VSN's Production Asset Management software module, increases efficiency of production environments with tools that manage and track media all along the creative process. Thanks to VSN's Production Asset Management system, workflow automation allows for movement, transcoding and media publishing tasks, among others, to be run in the background, allowing users to concentrate in what they do better: create contents.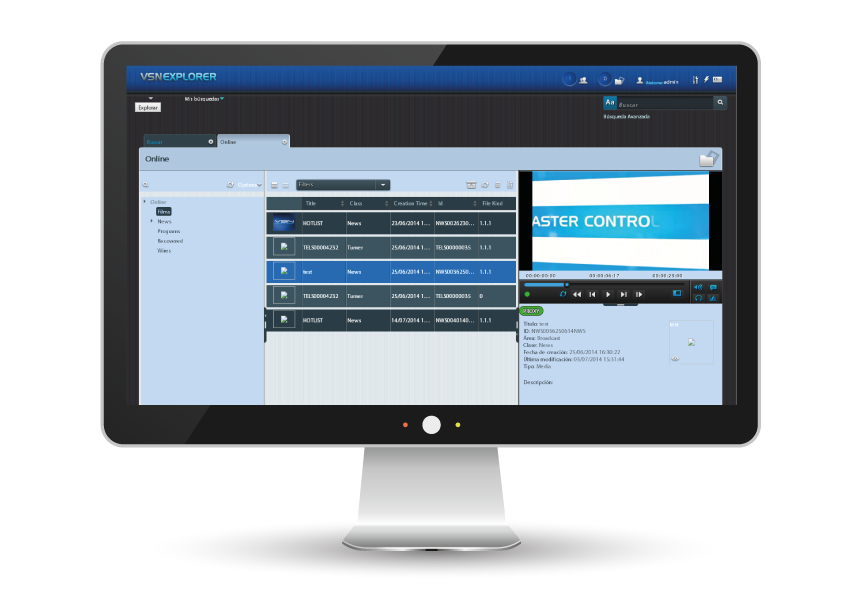 INTELLIGENT MANAGEMENT OF THE STORAGE
INTEGRATION WITH THE MAJORITY OF VIDEO EDITORS
COLLABORATIVE WORK IN LOW AND HIGH RESOLUTION
NLE INTEGRATION
VSN's Production Asset Management integrates with most NLEs in the market, such as Adobe Premiere, Final Cut and Avid Media Composer. It allows for the import and export of sequences from these NLEs and dragging-and-dropping them straight to the timeline. PAM supports production environments with different NLEs, a feature which makes collaborative work more efficient.
SEQUENCES AND PROJECTS MANAGEMENT
Production Asset Management (PAM) functionalities are closely tied to sequence management. When registering a sequence in VSNEXPLORER PAM, its related metadata is associated to a "sequence asset". From this moment, the system controls all the associated media in the database, something that allows for an intelligent management of the production storage.
ONLINE STORAGE PURGING
When there's a need to free space in the shared storage, VSNEXPLORER PAM allows the user to locate all files that are not associated with any sequence (orphan files) for their deletion or archiving. Also, when users finish working on a sequence, thanks to VSN's Production Asset Management software it's possible to delete all associated media at once. When doing this, the system will make sure that clips that are associated to other sequences don't get deleted.
ARCHIVING OF FULL SEQUENCES
With VSNEXPLORER PAM it's possible to archive a complete sequence (LTO or ODA). This is, to send the "sequence asset" and all its associated media to the archive system of choice for later recovery, freeing much needed space in the online storage. As opposed to other systems, only media that has not yet been archived will be archived, considerably reducing the writing time and avoiding unwanted duplication of media.
COLLABORATIVE WORK
A Production Asset Management system is designed to boost collaborative work. Different users can access a single sequence from different workstations, allowing to move forward in the production process without wasting time. The system also includes a Social Tools module, which enables a team to track all changes done, add comments and interact in chats and forums in real time, all of this in VSNEXPLORER's interface.
LOW RESOLUTION WORKFLOW
The adaptive proxy (Smooth Streaming) generation module makes low resolution workflows possible and allows users to preview online, nearline and offline material. Users can, amongst other things, create hotlists, rough edit with VSNWEBCUTTER web based editor, export EDLs and consolidate in high resolution in the background.