VSNLIVECOM

Simple, reliable and flexible Studio Playout
Control and flexibility for the audiovisual company
VSNLIVECOM is a studio playout system based on VSNMULTICOM's engine, VSN's MCR automation solution with over 20 years of presence in the market. The studio playout controls up to 16 video server channels (4 in A/B/C/D rundown, 4 auxiliary channels and their redundancies). It is MOS compatible and is integrated with most NRCS systems available in the market, like Avid iNews, ENPS, Octopus 8 and Ross Inception amongst others.
In addition, thanks to VSN's studio playout, each client can have their own configuration and interact with the same studio and/or the same rundown which can be configured in redundant mode.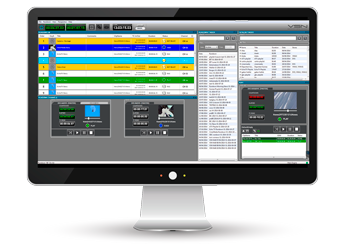 SIMPLE, RELIABLE, FLEXIBLE
CONTROLS UP TO 4 CHANNELS (A/B/C/D)
STUDIO PLAYOUT DYNAMIC CONFIGURATION
UP TO 8 SERVER AUXILIARY CHANNELS
REVOLUTIONARY ARCHITECTURE
VSNLIVECOM has been designed searching for maximum simplicity, reliability, flexibility and high availability. Its revolutionary client-server architecture allows for different clients to connect to the same studio playout engine. These clients can control different channels and have different graphical interface configurations.
PLAYLISTS AND CHANNELS MANAGEMENT
VSN´s studio playout manages multiple rundowns simultaneously, controlling up to 4 channels (A/B/C/D) in list mode and allowing for manual event management which can be chained in a different order to the original playlist, enter loop mode, etc.
CLIP LISTS
VSNLIVECOM handles up to 8 auxiliary videoserver channels. These channels can be used for playing out different contents to those in the rundown, for example for studio video walls. The studio playout software includes trim, loop, slow motion and other function to further increase the potential of these auxiliary playlists.
NON STOP DYNAMIC CONFIGURATION
VSNLIVECOM studio playout software allows for the configuration of the system to change without affecting the operation. Devices can be stopped without having to interrupt playout. It's possible to customize the operation views, for each studio and user and keep the settings for future sessions.
Do you want to see our advanced studio playout, VSNLIVECOM, in action?