VSNCREA TV

Broadcast Scheduling Software Module
Collaborative work for the best broadcasting
VSNCREA TV is VSN's broadcast scheduling software for TV planning and programming. It allows to manage the workflows of advertising, production and broadcast departments regarding broadcast planning (from general simulations for all the season, to programming and schedules for a particular week).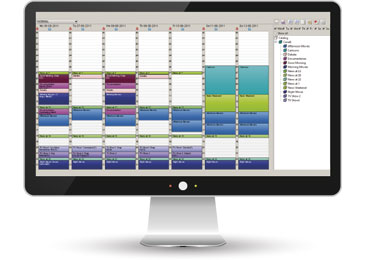 SPOTS AND ADVERTISING CAMPAIGNS MANAGEMENT
PROGRAMS PRODUCTION CONTROL
WEEKLY TV PLANNING AND DAILY BROADCASTING PLAYLISTS
Improving efficiency of a TV channel
VSNCREA TV is a key part for improving efficiency, may it be commercial, thematic, news oriented or generalist. The broadcast scheduling system helps optimize human resources and enhances collaborative work between different departments in a transparent and simple way, eliminating repetitive tasks and avoiding human errors.
MULTIPLATFORM WEB ARCHITECTURE
Web architecture for a fast and simple implementation of a channel or multi channel system. Multiplatform: clients can work on any OS (Windows, MacOS, Linux), with the only need of a Web browser.
USER RIGHTS SYSTEM
The broadcast scheduling software has a powerful user rights system depending on user profiles and programmed tasks. Collaborative work between technical and managerial departments is easy. User views can be customized depending on the programmed task.
VSNMULTICOM AND MAM INTEGRATION
Total bidirectional integration with VSNMULTICOM and VSNSPIDER that allows for automated media movement workflows based in user rights and admission rules. The integration with the MAM system allows for the synchronization of the metadata associated to productions, such as length and segmentation.
GREAT SPEED OF REACTION
With VSN's broadcast scheduling software, you have the possibility of making fast last minute modifications in case of unforeseen changes in the TV planning. Consolidation of real broadcast data (As-Run-Log) for comparison with the original scheduled rundowns.
PLAN - CONTROL - CREATE
Plan advertising campaigns and manage advertising disconnections for different channels and geographic areas. Control in-house and external productions. Create weekly schedules and daily broadcast rundowns.
Do you want to see VSN's Broadcast Scheduling Software in action?