VSNWEBTV

Manage, distribute and monetize your contents in second screens
"From End-to-End to Anywhere": your media in every device
VSNWEB TV is a new VoD and streaming platform that allows users to distribute its assets directly from VSNEXPLORER (VSN's MAM, with PAM and BPM modules and a new BI layer) to their webpages or to stream them on the Internet, maximizing impact and monetization of contents in any possible platform, creating the revolutionary concept "From End-to-End to Anywhere".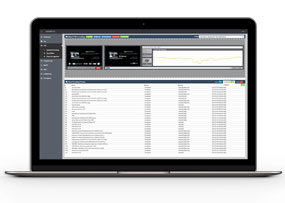 INTEGRATION WITH MAM, PAM & BPM
EASILY MONETIZE YOUR CONTENTS
INTEGRATION WITH MEDIA ASSET MANAGEMENT (MAM)
VSN integrates second screens and platforms with the user´s daily work by establishing Business Processes (BPs) to automate management and distribution of contents online, something that saves time and resources and improves the efficiency of each asset. VSNWEB TV is totally integrated with VSNEXPLORER, VSN's MAM, PAM and BPM (now with a new BI layer), taking content management to the next level: from End-to-End to any place or platform.
BROADCAST TO ALL DEVICES
For an audiovisual company, it is essential to attract new public, carry out more and more broadcasts and create interest in its audiences with live events, news and entertainment. VSNWEB TV allows for broadcasting to any type of public and market, to all devices and with a modular quality system. Broadcasting becomes in this way a simple, effective and productive task. VSNWEB TV is the only platform in the market that offers a single broadcast line for all the devices in the market: IOS (iPad and iPhone), Android Tablets and SmartPhones, Smart TV, Set Top Boxes and video games consoles.
ADVANCED CONTENT MONETIZATION
Thanks to VSNWEB TV, users can carry out TV and live events broadcasts without any visualization issues and without interruptions. Users can algo manage its Video on Demand (VoD) resources and assets with one single platform in HD quality and compatible with HTML5. This makes it extremely easy for the user to monetize its content and get the most from it.
PUBLISH TO THE WEB
Publishing news to the web and social networks directly from VSNNEWS. A single journalist can edit the text, select pictures and categories for the web. Then the system publishes a news piece to the website, it will automatically transcode the video into the required web and second screen formats.
LIVE TV STREAMING
The streaming of a channel's broadcasted signal through the web faces rights ownership issues. To solve this, on the VSNMULTICOM playlist the operator can select which contents can be shown on the web, VSNMULTICOM then controls the live-streaming encoder and stops the transcoding when the event has no rights, launching an alternative playlist and indicating when normal broadcasting will resume.
CATCH-UP VOD AUTOMATION
This makes fast publishing contents for on-demand playback on the web simple. VSNMULTICOM controls the encoder and eliminates commercial brakes, publishing the content without interruptions. As soon as the program is finished, it becomes available on the web.
SOCIAL SHARING
Content publishing in social networks such as Facebook, Twitter and Youtube is also automated with VSNEXPLORER MAM: any content available in the system can be published from a single interface, and it is a click away.
ENCODING LIVE & VOD MULTIBITRATE
VSN's Second Screens solution offers the user the chance to develop Live and On Demand encoding systems and with multibitrate HD experience to all devices.
WEBTV PLATFORM SERVICE
The services is integrated with webTV platforms using the main CDNs in the market, such as Level 3 and Akamai. It helps to monetize contents online thanks to the native AdServer system, from which it is possible to insert advertising in different formats: rolls, dynamic and static overlays, tickers, picture in picture, watermarks and screen icons, etc. And all of this again, fully automated.
Have a look at VSN's second screens automation tool