The company has presented its renewed corporate image and brand-new website, with a more intuitive design and new functionalities and content aimed at all its customers, dealers and partners worldwide.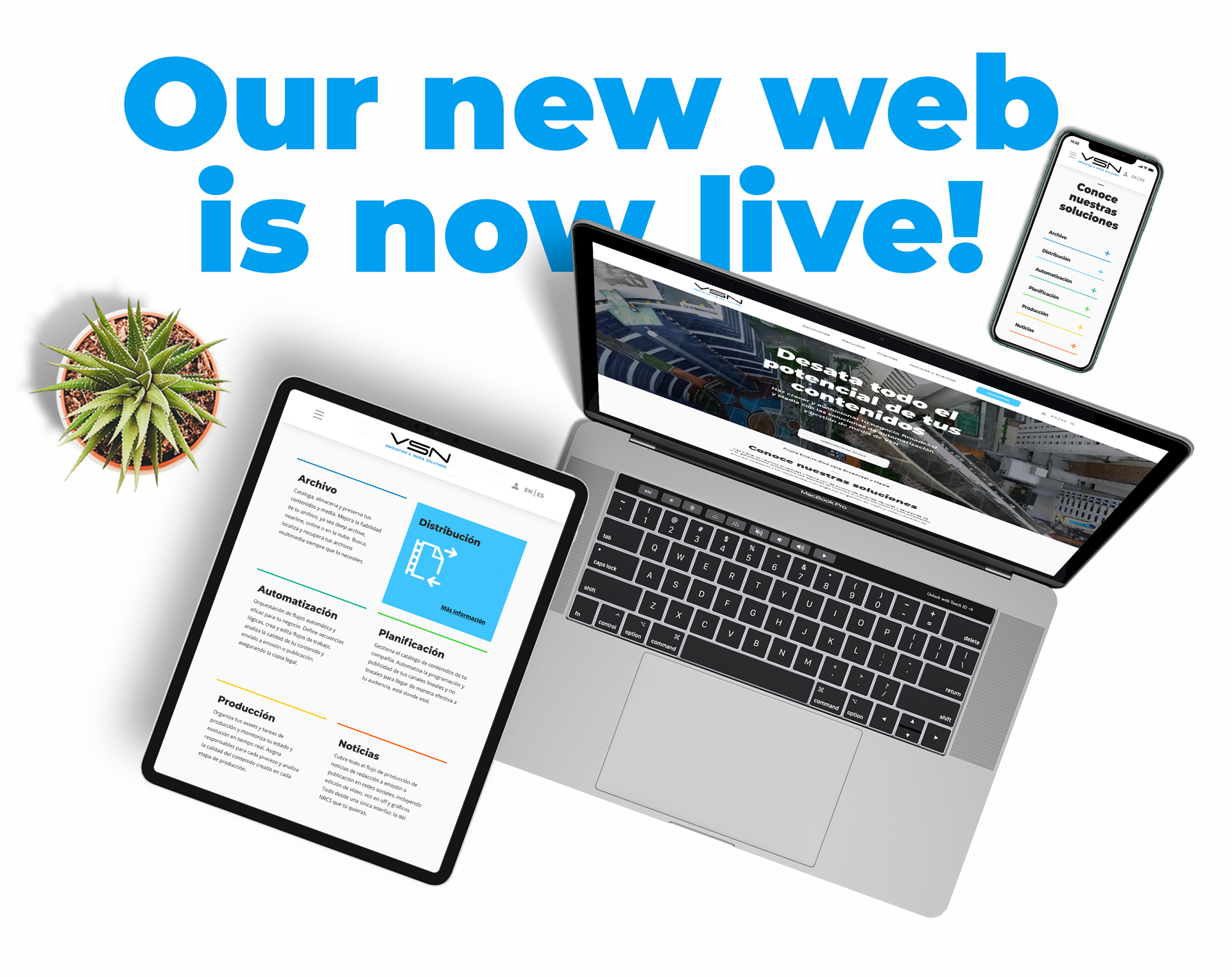 VSN has been offering solutions for all kinds of media production, management and automation needs for over 30 years, always using the latest technologies and offering its clients the maximum commitment in all their projects. Now these values have been transferred to its its new corporate website, whose design and structure have been reorganized and simplified to improve its ease of use and intuitiveness, so that users can locate the information that interests them in a more agile way.
Regarding the new sections launched, it is very remarkable the introduction of the new VSN's solutions for Media Preservation, Exchange, Delivery, Planning, Production and Stories. These solutions, conceived to cover each part of the media life cycle, are made up of different VSN's products that, always in an integrable, open and scalable way, allow solving any related need in the Broadcast and Media industries. Additionally, users can also go directly to the product pages of their interest to obtain more information about the VSN software.
Likewise, the renewed Resources section also offers access to a large amount of downloadable e-learning and informative content, such as webinars, product information, white papers and feature highlights. All of them are easily accessible from this digital library that will continue to expand in the coming months. On the other hand, it is also worth mentioning that users will be able to watch all these solutions and products systems in action by registering to VSN Play, the company's recently launched video platform where users can access all the company's demos, webinars and corporate videos.
"This new website represents the culmination of the growth and change that VSN has experienced during these last years", says Patricia Corral, Director of Marketing at VSN. "The new range of solutions that we present is a radical twist to the concept that we have been working on previously and we believe that it is much better suited to the needs of our potential clients. We have always affirmed that interoperability and flexibility are some of VSN's most important differential values ​​and this new approach that we are introducing towards our technology and towards the power of our products combined together looks forward to reinforcing this idea".
After several months of development and hard work, VSN is proud to present a modern, functional and attractive corporate website, 100% available in Spanish and English and designed to improve the user experience anywhere, anytime, in line with the company's commitment to high quality standards.
Get a monthly dosis of a new content in your mail