The presentations will be conducted by VSN's Sales Director for Europe & Africa, Roberto Pascual, and by VSN's EMEA Sales Manager, Ramón Dueso, who will be in charge of introducing VSN's complete suite of solutions for advance media management, End-to-End system and its latest features (Cloud, fingerprinting, EDL's…) and integrations carried out by the company. Both presentations will be held at SGL's Stand SL5306 on Tuesday 19th of April (from 12:00 to 12:30 pm Las Vegas local time) and on Wednesday 20th of April (from 16:00 to 16:30 pm).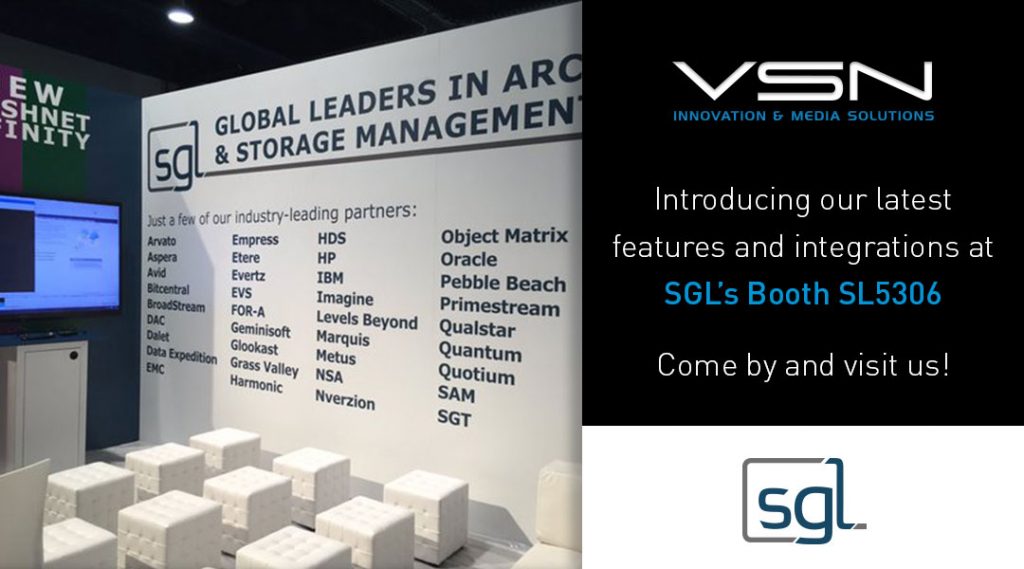 VSN will momentarily change its corporate space at the NAB Show for a new scenario to present its latest innovations and solutions. Its partner's booth, SGL (SL5306), has been the chosen scenario for holding two presentations in which to discuss various topics: from the improvements that an End-to-End system can bring to the Broadcast and Media & Entertainment industries, to the most recent advances and new features incorporated to its suite of solutions for the advance media management. Both presentations will be hosted by VSN's EMEA Sales Team, leaded by Roberto Pascual, Sales Director, and Ramón Dueso, Sales Manager for this geographical area.
One of the prominent points of these presentations will be the integration carried out between VSNEXPLORER, VSN's solution for the advance media management, and SGL's archive systems. The integration offers users a complete range of tools for managing and restoring all its archive content, no matter if it is located in physical or online archives. The intelligent archiving solution FlashNet allows users to maximize the efficiency and performance of every single part of the archive storage infrastructure, including near-line disk storage, LTO tape, optical disk or cloud.
Thanks to these features, the new SGL and VSN solution enables to develop some interesting tasks in the most efficient way, such as transparently copy or move media between every storage tier, balancing cost and performance in the way that works best for the media organization or even either restore whole media files or timecode-based partial files.
Together with this integration, VSN's sales team will also introduce VSN's revolutionary concept End-to-End that integrates its complete suite of solutions, in order to foster collaborative work among a company's departments and professionals. The ultimate goal is to improve any company's work efficiency by having access to a single and unique platform where users can exchange information and manage tasks in collaboration.
Finally, VSN's professionals will also go through some of the latest improvements presented at NAB Show 2016, such as the integration between VSNEXPLORER and Microsoft Azure Media Services cloud platform, the recently launched integration with Avid Media Composer EDLs, the fingerprinting service for content control or some of the latest innovations related to Second Screens and Business Intelligence.
For all those who might be interested in obtaining more information about these presentations or about VSN's suite of products and software solutions, they can visit VSN's Stand SL8006 at NAB Show or even request a Demo in advance for watching our solutions in action. Demos can be booked through the following link.