VSN is launching a new Web Plugin for news and live production at NAB Show 2018 (booth SL 8006) in Las Vegas, NV. VSN new Web Plugin allows editors and journalists to visualize all assets and videos stored in the VSNExplorer MAM system, as well as graphics in the CG system, via the interface of their chosen newsroom computer system (NCRS), and then allocate, drag and drop those video files into the NRCS in order to complete a news item.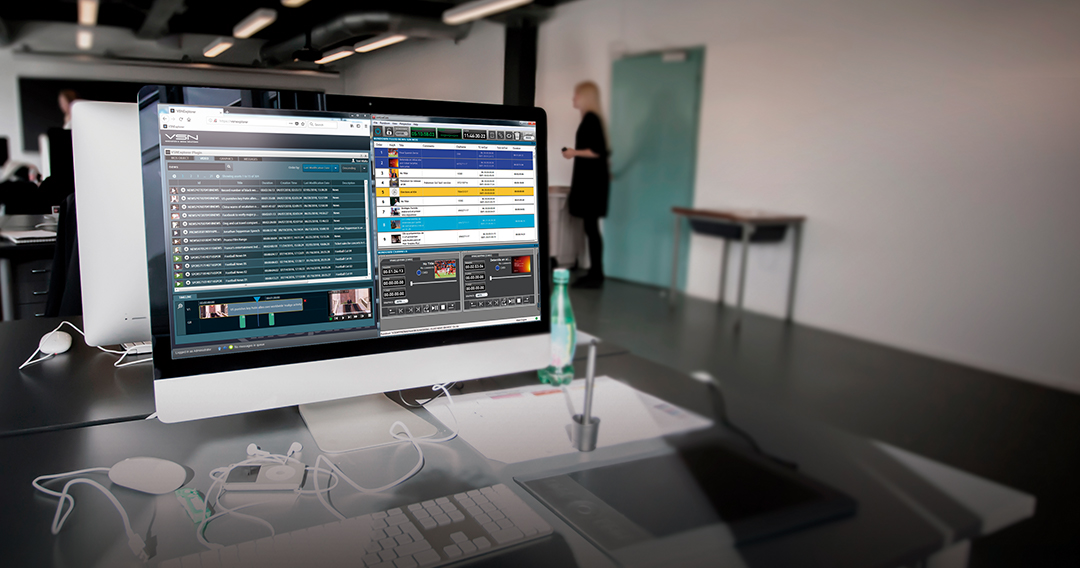 Available on the market by mid-2018, the Web Plugin for news production will be provided as an add-on feature to the VSNExplorer solution for Media and Business Process management and has been fully developed in HTML5 to avoid the need to use or install additional hardware or software. It is compatible with most NCRS including Octopus 8, Inception from Ross Video, iNews from Avid, ENPS from AP News and others, and is integrated with the NRCS via the Media Object Server (MOS) Communications Protocol.
It is also being integrated with CGs systems via MOS to read the catalogue of graphic templates that are available, allowing the journalist to enhance the news item by synchronizing the media with graphics. In essence, this Web Plugin enables the user to edit and unify video files and graphics over the video and then drag and drop the final piece into the news item, including the possibility of re-editing it afterwards. Later, the items can be even sent automatically to any Studio Playout solution, such as VSNLivecom.
Douglas Wynn, VSN's Sales Director covering North America, said: "Customers that already have the VSNExplorer MAM system deployed at their facilities will benefit from a user-friendly and intuitive Web Plugin that will complement and improve the media production workflow of any facility. This new function will enable them to take full advantage of all the features of VSNExplorer MAM, such as fast cataloguing, the advanced and quick search of assets and video files, proxy player, retrieval of content, fast rough cut editing with voiceover and more within the same interface of their NRCS of their choice. In this way, journalists save time when writing and creating their news since they do not have to browse between different programs and interfaces."
VSN Web Plugin for news production allows production departments to become far more efficient through the enhanced automation of their workflows, saving both time and money. In addition, they can learn how to better monetize their content by exploiting more features that are provided with different VSNExplorer modules (for instance, the analytical reports provided by the VSNExplorer BI module).
VSN new Web Plugin is just one of a number of new products that VSN is featuring at NAB 2018. Also being launched is the 100% web-based editing tool Wedit with new functionality such as voiceover capability. VSN will also be showcasing its latest cloud-based Playout solution, with the implementation of four VSN systems in the cloud (VSNOneTV, VSNCreaTV, VSNExplorer and VSNWebTV).
Those people interested in discovering more about VSN Web Plugin and VSNExplorer MAM can visit VSN's booth (SL 8006) at the upcoming NAB Show, which runs from 7 – 12 April 2018 at the Las Vegas Convention Center, or even book a demo in advance through the corporate website.